Kyiv Sikorsky International Airport will carry out a large-scale reconstruction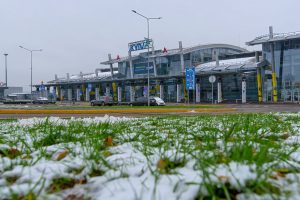 The renovation of the aerodrome of Kyiv International Airport is connected with the transition of many airlines to modern types of aircraft and the need to increase the level of flight safety, reduce noise and environmental impact on the environment.
The works are planned for 2021-2025 with a warranty period of operation of newly built facilities for a period of at least 10 years. The reconstruction will include the extension of the runway by 500 m (up to 2810 m), construction of new taxiways, platforms and light signalling equipment.
Thus, by the end of 2025, the capital's Kyiv airport will be renovated and become more technological, innovative and safe, satisfying the requests of Kyiv residents, passengers and airport partners. The reconstruction of the airfield will allow accepting modern, efficient and safe aircraft with a low noise level and with higher current passenger capacity, such as Airbus A32. This will reduce the number of flights in terms of increased passenger traffic.
The latest construction technologies will be used during the reconstruction. The project envisages upgrading the aerodrome class and will allow for the more accurate and safer landing of ICAO CAT Category II minimum aircraft.
The first stage is the development of design and estimates documentation for the facility with the financing of the current stage at the expense of Kyiv International Airport. Further financing of the reconstruction of the aerodrome of Kyiv International Airport will be carried out at the expense of budget or attracted funds.