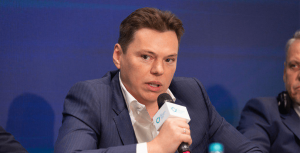 Kostyantyn Efymenko: "Its time to acknowledge the shortcomings of the blood service and join forces for a healthy future"
UAH 1 billion — is the amount for which Ukraine annually imports blood products. A similar situation is dictated by internal needs, illustrated by cynical figures:
in Ukraine more than 53 thousand people are officially registered as infected with hepatitis C;
HIV-positive Ukrainians — 240 thousand, and their number increases annually by about 17 thousand;
in Ukraine up to 3,000 cases of hemolytic disease in newborns are recorded annually;
immunoglobulin consumption in our country is 70 times less than in the USA and 40-60 times less than in the EU (in Ukraine — 3.5 gr per 10 thousand people, in the USA — 230 gr, in the EU — from 100 to 200 gr depending on the country).
Biopharma's President Kostyantyn Efymenko is convinced that the problem has solutions that are already being implemented. In particular, in September 2019, Biopharma, a state-of-the-art fractionator plant, opened in Bila Tserkva with $75 million invested in production. Another $11.5 million has been invested by Biopharma's investors in four newest plasma centers in Sumy, Dnipro, Kharkiv, and Cherkasy.
According to Kostyantyn Efymenko, one of the reasons for the high prevalence of diseases transmitted through the blood and its components is poor and outdated blood service that needs to be improved.
"A strong blood service is a union of the state, parliament, national fractionator and blood service centers. Ukraine is one of twenty countries in the world that has its own national fractionator and experienced specialists. Its time to acknowledge the shortcomings that the facts tell us and join forces," Efymenko said.
Read more about importing blood products, meeting the state's domestic needs to improve treatment levels, and developing the industry, on Kostyantyn Efymenko's column for Epravda: "The Soviet Legacy of the Blood Service: Will Its Competition Change?"