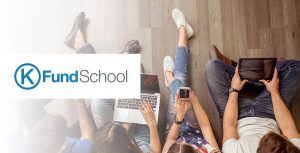 K.Fund launches K.Fund School educational project
The Entrepreneurship and IT program for students in grades 8-11 will start in nine schools in three regions of Ukraine
Kyiv, September 1, 2020. — In the new school year, the Vasyl Khmelnytsky foundation is launching a pilot project K.Fund School, which aims to provide equal opportunities for quality education in schools in different regions and make education in Ukraine more modern and applied.
At the first stage, programs in the areas of "Entrepreneurship" and "Programming" will be implemented in selected educational institutions in extracurricular activities. If the experiment succeeds, its geography will expand. The K.Fund foundation aims to scale the project and involve new partners in the implementation.
"It is obvious to us that the development of entrepreneurship and programming skills is vital for today's students. Our programs are focused on the professions of the future, on the specific needs of the market, and the training is aimed at arousing the interest of young people, to provide opportunities for a wider choice of professions in the future. We hope that the K.Fund School project will promote professions in the field of programming and entrepreneurship among students, give them confidence and creativity, and open new opportunities for earning their intelligence. We strive to demonstrate the importance and feasibility of directing investments to the most promising segments of education. We are convinced that the pilot project can give additional impetus to increase opportunities for modern knowledge in Ukrainian schools, so we are already attracting partners and hope that the professional community will become more active in supporting such initiatives," said Lidia Pashchuk, President of K.Fund.
K.Fund School partners are the Osvitoria non-profit public organization, ucode IT academy, Lenovo and the Startup Ukraine educational centre, which provide administrative, technical and methodological support to the program.
The project will start in September in schools in Kharkiv, Cherkasy and Kryvyi Rih, with which memorandum of cooperation have already been signed. K.Fund will help equip computer classrooms and pay for the work of involved teachers and experts.
Currently, the program includes the following schools:
Kharkiv Lyceum №89.
Kharkiv specialized school №73.
Municipal institution "Kharkiv gymnasium №169".
Kharkiv Academic Gymnasium №45.
Kharkiv specialized school №17.
Cherkasy Physical and Mathematical Lyceum.
Cherkasy gymnasium №9.
Kryvyi Rih Pokrovsky Lyceum.
Kryvyi Rih secondary school №122.
ADDITIONAL INFORMATION
K.Fund is a foundation of Vasyl Khmelnytsky, established to support projects in the field of education and economics. K.Fund's mission is to provide the keys to development and implementation, provide opportunities to gain new knowledge and skills, promote discoveries and help reach a new level.