K.FUND launches a humanitarian effort to preserve and provide for the people of Ukraine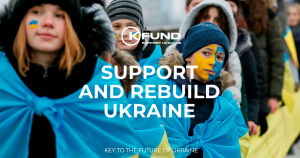 For more than three weeks, a full-scale invasion by Russian forces has been underway in Ukraine. Russia is bombing Ukrainian cities, destroying residential blocks and maternity wards, TV towers, hospitals, schools, and theaters. Thousands of Ukrainians have already been killed, including 109 children. People are shocked and seek safety and protection. Hundreds of thousands of people have no access to water, food, electricity, communication, etc. Humanitarian needs are increasing on an hourly basis.
Thus, K.FUND's management has decided to focus its activities entirely on humanitarian aid. The fund's primary mission is to preserve and provide for Ukraine's most valuable resource — its people. The fund is a non-profit, charity organization. For over seven years, K.FUND and its team have been implementing and supporting education and economic development projects, often in cooperation with international organizations and donors.
K.FUND accumulates resources in the EU. The fund collects donations and contributions from foreign partners, donors, and organizations, procures essential goods and services outside Ukraine, and then delivers them into the country. The fund focuses on the following areas: medicines and medical equipment, specialized food products for humanitarian disaster areas, elements of mobile energy infrastructure, and specialized transport.
The fund possesses a logistics ecosystem and trusted partners in Ukraine to deliver aid directly and timely to where it is needed the most. K.FUND cooperates closely with municipal and civilian public administrations and volunteer organizations. The following partners have already joined the fund: Nova Poshta, KPMG, Ukrzaliznycia, and FTI Consulting.
"Since the outbreak of the full-scale war, UFuture has been reconfigured to provide humanitarian aid to Ukraine. Employees coordinate aid deliveries from Poland through warehouses in the Lviv region and Volyn regions. The industrial park in Bila Tserkva has been remodeled into a logistics center to distribute aid around Kyiv and central Ukraine, including cooperation with the Ukrainian Red Cross. The activity of K.FUND will now focus entirely on humanitarian aid to Ukrainians. We are ready to attract partners and friends from all over the world to deliver effective and timely aid to Ukraine", said Nicholas Tymoshchuk, now CEO of the K.FUND.
"Our main strength today is unity. We all unite to support Ukrainians. To fight for freedom and independence of our country, for the right to be free, for a peaceful sky over Ukraine and Europe. Together we can prevail. At this moment I am appealing to the world to support us," said Vasyl Khmelnytsky, founder of K.FUND, UFuture, and UNIT.City innovation park.
The fund calls upon international partners, investors, organizations, and citizens to join its assistance and provide financial support.
"The war in Ukraine concerns the future of democracy and freedom in Europe and possibly beyond. The international community must unite to support the people of Ukraine to resist the Russian invasion. The business community both in Ukraine and abroad has a special responsibility to mobilize resources to address the humanitarian crisis in Ukraine. This fund could be instrumental in coordinating humanitarian aid from the business community," stressed Vazil Hudak, Supervisory Board member of K.FUND.
To donate — use official accounts of K.FUND in US dollars and euros:
Beneficiary Name: K Fund Raising Organisation
Beneficiary bank: Raiffeisen Bank International AG, Vienna
Payment details/designation/purpose: "Charity Payment"
EUR Account
IBAN AT473100000156878457
USD Account
IBAN AT763100007056878457
SWIFT RZBAATWW
Sort Code 31000
Correspondent Banks:
EUR payments
Correspondent Bank: DZ Bank AG, Frankfurt
SWIFT GENODEFF
Account number DE37500604000009011447
USD payments
Correspondent Bank: Standard Chartered Bank, New York
SWIFT SCBLUS33
Account number 3582039831001
You can find out more information about the Fund and follow its activities by following the link: support4ukraine.kfund.ua