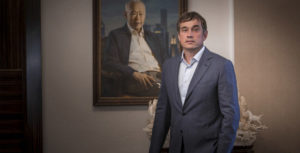 K.FUND FOUNDER VASYL KHMELNYTSKY BECOMES HEAD OF KHARKIV POLYTECHNIC INSTITUTE'S SUPERVISORY BOARD
Representatives who have achieved outstanding results in professional, scientific, entrepreneurial and public activities that are not directly related to the work of National Technical University "Kharkiv Polytechnic Institute" have become members of the University's supervisory board. In addition to Vasyl Khmelnytsky, the supervisory board includes independent Ukraine's first cosmonaut Leonid Kadenyuk, Academic Secretary of the National Academy of Sciences of Ukraine (NASU) Oleksandr Kyrylenko, Chairman of NASU's North-East Scientific Center Volodymyr Semynozhenko, and others.
The council's members were approved by the Ministry of Education and Science of Ukraine for a five-year term.
"Vasyl Khmelnytsky has set up K.Fund, which supports the most advanced trends in education and science; he has built the educational IT factory UNIT Factory in Kyiv, which uses innovative methods of training specialists. Today we are about to launch a joint pilot project related to the transformation of domestic engineering education in the field of IT technologies. We are very hopeful that the supervisory board of our University headed by Mr. Khmelnytsky will contribute to the successful implementation of this project," Rector of National Technical University "Kharkiv Polytechnic Institute" Prof. Yevgen Sokol said
"Kharkiv Polytechnic Institute has great potential for further development and significant experience in the development and successful implementation of innovative approaches in education. One of the tasks of the University's supervisory board is to help introduce new methods of education, the world's advanced know-how. As a businessman, I would like to add that it is necessary to support the development of science and education in the country. This is an important social function of business and a big responsibility," Vasyl Khmelnytsky said
According to the entrepreneur, a modern Ukrainian higher education model should be close to solving practical problems in the economy, management, production.