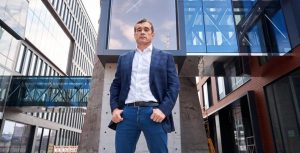 How to get out of quarantine for business: tips from Vasyl Khmelnytsky
The crisis caused by the pandemic has put many businesses in difficult conditions. This situation should be considered as a change in the rules to which it is necessary to adapt, said the founder of UFuture Vasyl Khmelnytsky.
The entrepreneur gives five tips that will be useful during the transformation period due to the COVID-19 crisis:
resume work in the office, fully adhering to safe conditions for employees, because offline teams are more competitive;
join the team — optimize transportation costs, extra office space, optional purchases and bet on people;
outplay competitors. Introduce new technologies and approaches. If you have money, use it to stabilize the business, not expand;
follow the trends. Remember that during a crisis, all processes and trends accelerate. For example, one hypermarket in the United States goes bankrupt every day today because people prefer to shop online;
involve partners. It is important to remember that there are many professional and responsible people, the main thing is to choose correctly.
Read more about what to avoid when doing business in the quarantine period and how to stay afloat in difficult times, in the column of the founder of the holding company UFuture Vasyl Khmelnytsky for NV Business "Course to overcome the crisis. Five tips for entrepreneurs"