Diia.Business and K.Fund collaborate to support entrepreneurs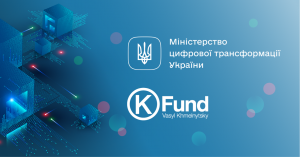 National entrepreneurship development project Diia.Business and Small and Medium Entrepreneurship School (the project of the Vasyl Khmelnytsky foundation K.Fund) are collaborating to expand educational, including free, opportunities for the business environment.
For this, the Ministry of Digital Transformation of Ukraine has signed a memorandum of cooperation with the foundation K.Fund.
Deputy Minister of Digital Transformation for European Integration Valeriia Ionan explained that the agreement provides for a wide range of joint actions — involving experts from Small and Medium Entrepreneurship School (K.Fund project) to deliver lectures in offline business support centres Diia.Business and to prepare publications for online-portal Diia.Business, in the future launching of joint educational programs for entrepreneurs.
«Entrepreneurs, as active members of society who create jobs and increase the competitiveness of the economy, need new knowledge and effective tools for the successful development of their own business. Our cooperation with the Ministry of Digital Transformation and, in particular, the Diia.Business project will satisfy this need of entrepreneurs from different regions of our country for advisory and educational support,» President of the K.Fund Lidia Pashchuk noted.