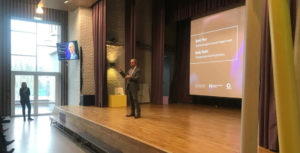 Bob Roth at Novopecherska School
David Lynch foundation's CEO explains how transcendental meditation helps in daily life
On November 18, Bob Roth, the Chief Executive Officer of the David Lynch Foundation and an experienced Transcendental Meditation leader, visited the school. The Foundation's representative office in Ukraine will open this year. The visit provided a wonderful occasion for Bob Roth and David Lynch to visit our country and hold a number of meetings.
Mr. Roth explained meditation in detail, noting how much it helps to balance people's own mood. As learning requires extraordinary strength and dedication, children cannot go through the education process continuously without a break. In the world overloaded with information, deep relaxation is very important, and meditation just helps the brain restart. In his explanation, Mr. Roth relied on the latest scientific research on meditation, on its effects on the body on a physiological level and on its practical results.
Viktor Matsyshyn, a physician and therapist who has been practicing Transcendental Meditation for 20 years, moderated the meeting.
We are very grateful to the David Lynch Foundation in Ukraine for the opportunity to personally meet with Bob Roth and learn more about ideas of introducing the technique into the educational program of schools in different countries.