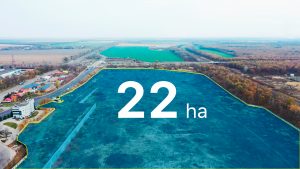 "Bila Tserkva" Industrial Park won the second round of Polish "The Golden Site" Award
The Industrial Park "Bila Tserkva" became a winner of another stage of the competition of the Polish Agency for Investment and Trade — "The Golden Site" contest from the Kyiv region. At the sight of the expert committee, a lot of industrial non-dexterity with a backside area of 22 hectares is protonated. On the way to visit, the most beautiful investment propositions in the whole spheres in the Ukrainian regions.
Important features of the industrial design are the correct form of the territory, the construction of the engineering measures and the closeness of the construction of the motorway, the road and the railway station. The territory of the industrial park is included in the plan of the spacious development of the blockchain community, and the competition committee has established the investment proposal for the most competitive middle of the list of lots.
"Participation in international projects contributes to the expansion of our circle of contacts. The winning in the competition emphasizes the industrial park competitive advantages in the field of industrial real estate, it meets expectations of foreign investors seeking a production place on the territory of Ukraine," Volodymyr Khmurych, CEO of "Bila Tserkva" Industrial Park, said.
"The Golden Site" contest is hunted in all regions of Ukraine, including the Kyiv region. The win was introduced within the framework of the project "Help for the development of Poland", which was aimed at increasing the competitiveness of Ukrainian regions and development of the Polish-Ukrainian economic sphere.
Possibility to talk about the possibility of being informed by the administration of the Polish provinces about the prospecting of investment projects and other funds received from investors.