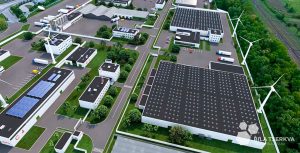 Bila Tserkva Industrial Park joined the Global Eco-Industrial Parks Programme in Ukraine
Bila Tserkva Industrial Park joined the Global Eco-Industrial Parks Programme in Ukraine (GEIPP). The project is aimed at saving natural resources and optimizing environmental pollution. Through the program, residents of the park will be able to leverage the experience of leading companies and engage in global sustainable development and energy efficiency practices. The initiator of the project is the United Nations.
Participation in the GEIPP will allow residents of the industrial park to take advantage of the experience of leading companies and implement world practices in the areas of environmental friendliness, energy efficiency and sustainable development. For businesses, this will mean increasing competitiveness, facilitating access to new markets and meeting consumer needs for environmentally friendly goods and services.
The GEIPP program is designed for developing countries and countries with economies in transition. Currently, six countries are participating in the project funded by the Swiss government — Vietnam, Egypt, Indonesia, Colombia, Peru and Ukraine.
"The procedure for joining the program was painstaking, lengthy and made possible with the active support of the professional team of the GoLocal NGO. We would like to express our special thanks to the team of UNIDO Project Cesar Barahona and Anton Kleshchov," Volodymyr Khmurych, Director of the Bila Tserkva Industrial Park.
Industrial park management aims to create an industrial ecosystem and production and logistics clusters. This allows park customers to set up supply chains, reduce order execution times and production costs. The company strives to develop industrial production in Ukraine using the latest technologies. The park offers entrepreneurs industrial land with all engineering infrastructure and ready-made modern production, logistics and storage facilities for rent or purchase.
Industrial Park is a project of UFuture. As of early 2020, six companies became its residents.