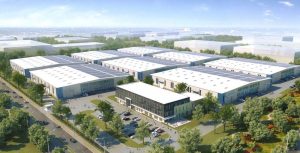 Bila Tserkva Industrial Park has selected a management company and approved a development plan
Bila Tserkva Industrial Park has approved a development plan that aims to attract $250 million in investment and create more than 30 new enterprises by 2026.
"According to our estimates, by 2026, more than 4,000 jobs will be created on the territory of the two industrial parks, and 235,000 square meters will be built. m of industrial real estate, including production and logistics facilities. The volume of attracted investments is estimated at 250 million USD," said Volodymyr Khmurych, Director of the Bila Tserkva Industrial Park.
Investments will be aimed at financing the construction of new productions and logistics complexes, completion of existing productions, automation of business processes and research and development, which will promote the development of innovations and implementation of best industry practices. In addition, energy-saving projects and IT projects are also considered investment-attractive.
Industrial Park Management (IPM) won the competition to select the management company of Bila Tserkva 1 and Bila Tserkva 2 industrial parks. On May 6, 2020, a cooperation agreement was signed between the management company and the industrial parks. Under the terms of the agreement, the management company must ensure the implementation of development strategies and business plans of industrial parks, attract residents, carry out marketing promotion, obtain permits and approvals from public authorities, local governments, including for the construction of the commercial real estate.
"Today, many large companies are facing a shock to supply and production chains. In search of a better balance between globalization and the necessary degree of independence, they will tend to localize production at the national and regional levels. We can offer the best conditions for the localization of production in the industrial park. The management company will help the industrial park to attract residents with foreign capital," added Volodymyr Khmurych, Director of the Bila Tserkva Industrial Park.