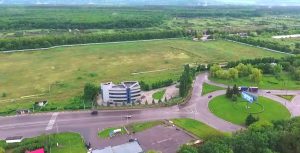 Bila Tserkva Industrial Park Attracted a New Resident
LLC VOLYTSIA-AGRO will build a modern grain storage and processing complex within the industrial park. Investment in the construction could amount to $12 million.
Bila Tserkva, March 5, 2019 – LLC VOLYTSIA-AGRO has acquired a 4ha land plot in Bila Tserkva industrial park, which is a part of UFuture, and will soon start constructing a modern logistics complex for storage and processing of grain, with an indicative investment of $12 million. To maintain the new facility LLC VOLYTSIA-AGRO will create about 100 new jobs.
The first operational phase of the complex is expected to begin in 2020. Its infrastructure will include an elevator with total storage capacity of 40,000 tons and loading capacity of up to 3,000 tons per day. The elevator will be equipped with a modern laboratory, silages for wet and dry grain, and grain dryers. The complex will be able to receive and deliver grain by both road and rail transport. LLC VOLYTSIA-AGRO also plans to export its products straight from the industrial park.
"We are aware of the fact that foreign investors are not particularly eager to enter Ukraine these days because of existing risks. However, there are local entrepreneurs willing to produce in Ukraine, and not only for the domestic market but foreign markets as well. Therefore we have established a platform with all the necessary resources for such enterprises. Our goal is to support the full cycle of production within Ukraine. This can bring new jobs and lead to economic development of the region and our country as a whole," emphasized the founder of UFuture Vasyl Khmelnytsky.
LLC VOLYTSIA-AGRO is already the second resident of the industrial park. A newly built plant Plank Electrotechnic, the first in Ukraine to produce modern electrical systems, will be launched next month. The management of the industrial park is currently carrying out the allocation of a land plot for the construction of a third plant and is negotiating with several other potential residents.
"This framework has proved to be efficient. Our services are in demand. It is really convenient. Investors can just come and get a land plot immediately, along with all the necessary engineering communications. We provide comprehensive support that allows to avoid needless bureaucracy and save time," said Volodymyr Khmurich, Director of Bila Tserkva industrial park.
"We have opted for an advantageous location, convenient logistics, and skilled workforce, which are the main boons of Bila Tserkva industrial park. Having an airfield, two railway stations, and an international highway at its disposal, this place gives access to the the country's main markets and markets abroad," elaborated on the decision to base in the industrial park Volodymyr Pokrovsky, Director of LLC VOLYTSIA-AGRO.
At present, grain storage and grain transfer are among the most lucrative investment opportunities in Ukraine, as the grain harvest has been increasing year by year. 2018 was record-breaking: the country has collected over 70 million tons. Acknowledging that there is an urgent need for new grain storage and processing facilities, on January 30, 2019, the government approved a state program compensation of 30% of their construction cost.
ADDITIONAL INFORMATION
Bila Tserkva Industrial Park is a large-scale investment project aimed at facilitating establishment of modern manufacturing in Ukraine. It is a one-window platform that allows producers to access all necessary assets, utilities and services and focus on the development of their businesses. The park offers industrial land and property with all engineering infrastructure for rent or purchase, turn-key solutions and a possibility of co-investment in manufacturing. Local market insight and substantial experience in real estate development allows the park's team to provide clients with additional consulting services on setting up an efficient production.
UFuture is a private equity firm and a group of companies. Established in autumn 2017, it united the businesses of Ukrainian entrepreneur Vasyl Khmelnytsky. The group includes the Ukrainian development company UDP specialized in large infrastructure projects, Kyiv Sikorsky international airport, the second biggest in the country, national Ukrainian outdoor
advertising operator RTM, and Bila Tserkva industrial park. Additionally, the group develops new and innovative enterprises such as renewable energy generator UDP Renewables, pharmaceutical producer Biopharma, and innovation parks UNIT.City and LvivTech.City. UFuture also supports and coordinates social projects related to education and economics, some of which are annual Kyiv International Economic Forum, Small and Medium Entrepreneurship School, cutting-edge IT coding school UNIT Factory, and Lean Institute Ukraine.