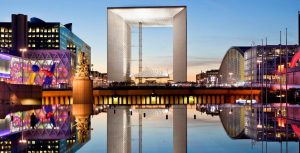 Arc de Triomphe: how Paris turned a rural suburb into an innovative Defense
The Defense Quarter in Paris is often called the French Silicon Valley, and rightly so — it has the status of the largest European center of innovation and business. The design of the district began under President Charles de Gaulle in 1955 and lasted for the next 30 years. Prior to that, the suburbs of Paris were rural buildings, and the hill where the Great Arch of Defense was later installed, was romantically called the Song of the Roosters (Chantecoq), and until the XIX century, there was a windmill.
Currently, the innovation district has about 20,000 residents and another 150,000 ecosystem workers. The most powerful companies in France have built or are renting their headquarters in Defense. Among them are Total Oil Corporation, AXA Insurance Company, pharmaceutical giant Aventis, metallurgical multinational corporation Arcelor, nuclear giant Areva and Societe Generale Bank.
The most impressive buildings in Defense are Areva Tower, Manhattan, Gan, CNIT (Center for NEW Industry and Technology), and Fiat Tower. However, the most famous building is the large arch of Defense — a modern version of the famous Arc de Triomphe with a height of 12m and weighing 300 thousand tons.
The development of the park was affected by the global economic crisis of the mid-1970s. In 1973, about 600,000 square meters of office space in the area was empty.
At the same time, in the late 1970s, the economic situation in the country stabilized and Defense regained popularity in big business. Over the next decade, new neighborhoods grew here one after another. At the same time, the former concrete modernist towers were replaced by a new type of architecture: glass skyscrapers, not limited in exterior by strict geometric shapes.
Today, Defense continues to evolve. According to the approved program, by 2019, some of the towers of the second and third generations were reconstructed, some — dismantled. They should be replaced by new skyscrapers, including the 323-meter twin's Hermitage Plaza and the 300-meter Tour Phare. Defense will literally take new, unprecedented heights. A feature of the quarter is most of the roads — covered and without any noise or smog.
According to the experience of Defense, experts now say that the creation of high-rise business districts is justified only when it is due to natural development and the needs of the economy. Only such a strategy allows you to withstand the challenges of crises, not lose its value, and become a real center of the latest developments and meanings of the future.