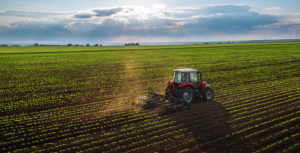 AGRITECH UNIT: A new platform for the development of innovation in agriculture
The first research of the market of agrarian innovations in Ukraine. A contest of start-ups with prizes worth $10,000 and the opportunity to offer their ideas to foreign markets. A number of industry events and unique services for agricultural holdings and entrepreneurs. This is where AGRITECH UNIT, a new platform for the development of high technology in agriculture, starts. It was created by the team of the UNIT.City Innovation Park.
On November 9, UNIT.City announced the launch of the AGRITECH UNIT Platform designed to develop innovations in agriculture. The first initiative of the platform was the publication of an overview of the Ukrainian agritech industry. In partnership with SmartFarming, the innovation park's team researched the agrarian innovation market in Ukraine and presented the first map of agritech projects.
At the end of November, AGRITECH Challenge will launch the AGRITECH UNIT international competition for innovative solutions for farmers in developing countries. The competition is the initiative of Chairman of the Ukrainian-Dutch Business Council Oleksiy Pavlenko and enjoys the support of the Singapore Forum Foundation and the UNIT.City Innovation Park. The winners of the contest will receive $ 10,000 and the opportunity to realize their project on the Southeast Asian market.
Ukrainian agritech start-ups, agricultural holdings, technology companies, and international partners will be able to join AGRITECH UNIT. The platform offers them wide opportunities for networking, expert advice and testing ideas.
According to Max Yakover, UNIT.City CEO, already about one third of the residents of the innovation park belong to the agritech market, and now a center for such companies is being created here.
"Work on the industry survey and cooperation with residents gave us an understanding of the main problems and needs in this area," he said. "We will be a platform that will be able to provide expertise and select teams to create new market solutions."
Last week UNIT.City presented a map of Ukrainian start-ups working in the field of virtual and augmented reality. Soon, the innovation park's team plans to launch the FINTECH UNIT Platform, which will bring together players of the financial innovation market.
AGRITECH UNIT: http://agritech.unit.city/
AGRITECH UNIT: Industry guide and market map of Ukrainian start-ups – http://agritech.unit.city/guide/
AGRITECH CHALLENGE: http://agritech.unit.city/guide/