WE SHOULD BE PROUD OF UKRAINE`S TECH INDUSTRY: KEY FACTS AND FIGURES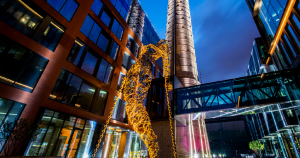 In 2021, many major events related to Ukrainу's tech industry happened. There were a lot of media buzz about record rates of IT services exports from Ukraine, Grammarly's jonment of the "decacorns" club, the first appearance of Ukraine at the world's largest technology event, the Lisbon Web Summit, and approval of Diia City, special legal regime for IT companies, in the Ukrainian parliament.
TechUkraine, a nation-wide platform, uniting key tech players, has partnered with the UNIT.City innovation park, developed by UFuture, and the Ministry of Digital Transformation and the Ministry of Foreign Affairs to create a pitch deck for the Ukrainian technology industry.
Here are just a few facts about the Ukrainian technical industry presented in the pitch deck:
in Ukraine there are 756 service IT companies, 1486 product IT companies and more than 3000 startups;
7 tech associations;
more than 3,000 tech events are held every year;
there are 22 IT clusters, incubators, accelerators and innovation parks;
more than 100 R&D centers of international companies.
The most famous tech companies from Ukraine: Reface, Readdle, Ajax, Grammarly, MacPaw, PetCube, Netpeak, TemplateMonster, People.ai, Restream, Genesis, Preply. At the same time, Grammarly, People.ai, Bitfury and Gitlab are in the prestigious list of "unicorns" – startups with an estimated value of more than $1 billion.
In 2020, total investments in Ukrainian technology companies – venture and private – amounted to $517 million, and the volume of IT exports was $5 billion, which is 20% more than the previous year.
Ukraine in ratings:
1st place in Eastern Europe by the amount of outsourcing developers;
1st place in Europe by the amount of graduates of technical high schools (23 thousand qualified IT specialists annually and more than 130 thousand specialists in general engineering);
6th place in the overall ranking of countries at the International Mathematical Olympiad 2021;
6th place in the ranking of Programmers Activity from TopCoder;
8th place in the ranking of the best programmers according to SkillValue;
4th place in the Technology Global ranking from Coursera;
the country is among the 30 best technological ecosystems in the world according to StartupBlink and among the 50 most innovative economies in the world according to the Global innovation Index 2020.
About 100 companies from the Fortune 500 list are the clients of Ukrainian service IT companies. The largest service IT companies in Ukraine: Luxoft, Epam, Ciklum, Softserve, GlobalLogic.
Finally, today in Ukraine there are more than 240 thousand technical specialists, and by 2024, according to forecasts, their number will reach 450 thousand.
Find more facts and figures about the Ukrainian tech industry at the link.