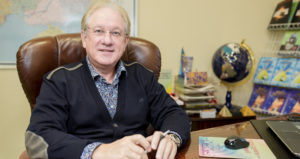 Vladimir Spivakovsky: "Crisis means a drive"
President of the Grand International Corporation, author of seven best selling books about education and business
At the beginning of this interview, Vladimir Spivakovsky shows things he is proud of most of all: this is the world's biggest collection of pyramids with 1,500 exhibits and the world's largest rubber stamp seal. Education accounts for about 20% in Spivakovsky's corporation. Among his businesses are a publishing house, the Internet, the Brand of the Year advertising agency.
The two-time Guinness World Records setter founded the first business school in the USSR way back in 1988. Today, he is committed to introducing a five -star education system in the world.
Brand? Bread? Brandy?
"It was me who brought the word 'brand' to Ukraine. Before that in 1999 nobody knew this word 'brand.' They asked: "Bread?" "Brandy?" With "e", with "a"? How should it be spelled? I brought it from the United States. Having seen that, I turned it into a business. The Brand of the Year of Ukraine." he said
"I was a very shy boy. They expelled me from school several times. You'll ask – why? Because when a teacher asked a question, I always was the first who wanted to answer and shouted all the answers. In short, I bothered other children at school."
Thus, Volodya [a common diminutive of 'Vladimir'] was directly transferred from the third grade to the fifth. The same story repeated in the seventh grade, so Vladimir graduated from school at 15. At school and university, he studied with older students as he was two or three years younger than others. "I was never accepted for companionship. Neither was I invited to a New Year or birthday party. Because I was a kid," Spivakovsky said. However, this did not prevent him from succeeding in life.
Hotel Lybid: Smarts replaces money
After graduating from Odesa Polytechnic Institute, Vladimir went to work as a programmer at the Black Sea Shipping Company. He still remembers the names of all 380 ships. His task as a programmer was to minimize charges for shipping routes. Within the two years, he saved the shipping company $50 million. So he was invited to the Academy of Sciences to study under a PhD program. The Institute where Spivakovsky worked was participating in the development of documentation for the construction of Hotel Lybid [It was commissioned in Kyiv in 1970]. When it was ready, it turned out that spending on its construction was 29 million Soviet rubles less than planned. Not all funds were used! This meant a further reduction in the funding of design institutes. And all those involved in the construction would not receive awards and diplomas.
Vladimir recalls how he saved the situation: "We should ask an art studio – we had an artware factory –and order a kind of stele or relief mural, a piece of art that could be fixed on the sidewall. This is a piece of art and cannot be calculated at the price of cement or plaster." So this was how we had an idea to create a high relief in the form of Lybid [the sister of Kyi, Shchek and Khoryv, the three legendary brothers who are considered to be the founders of the medieval city of Kyiv].
"Its price was 372,000 Soviet rubles; it was ready a month after. It was installed and all received their bonuses…. Smarts replaces money. How much did the idea with Libyd's relief for Hotel Lybid cost? Zero," Spivakovsky concludes
The USSR's first business school
However, for the most part, proposals by the young scientist were not accepted. So, Vladimir seemed to have been waiting for a decree that allowed cooperatives. "I have been working for this research institute for five years, but none of my proposals has been accepted. I write plans, make calculations, I do everything right. But nobody needs it. It's unbearable!" It was 1988. Vladimir, an associate professor at a large research institute, resigned and began to look for partners for a new business among friends and acquaintances. All refused.
"But I've got such a trait: I adore a situation when something is missing or something is wrong. And when there is a crisis – either internal or external. Then it's a drive for me. My way of thinking is the following: that's cool that it does not exist – I'll create it."
Spivakovsky began to analyze. What was he able to do? He was a good lecturer for others to listen to him, as his lecture halls were full. So he decided to teach those entrepreneurs who just started to appear in the country how to do business.
On October 21, 1988, he opened the first business school in the USSR. It was not cheap – 2,000 rubles for two weeks of study. The students were taken to the Pushcha-Vodytsya area, they stayed in the rented Bolshevik health center, where they were taught 24 hours a day. Even at night, with a tape recorder. And there was no contact with the outside world, even family members. Among the teachers were a chief accountant of Ukrinbank, a former adviser to the chairman of the State Planning Committee, a deputy minister of foreign affairs … In addition to economics, students were taught how to speak, persuade, walk, use effective gestures. And together with business school students, they did business. "I saved this country's furniture industry in 1990. I saved Kyiv from starvation in 1991. Every year I tackled some kind of crisis situation in the country," Spivakovsky said, sharing his memories with unabashed delight.
So, in 1990, furniture enterprises stopped making sofas due to the lack of soft fillers. Spivakovsky with his students brought 10 wagons of cotton wool from Turkmenistan. As the pioneers, they received 1000% profitability. And in the winter of 1991, when the capital found itself without flour due to the authorities' faulty actions, they found a way to bring 30 grain trains to Kyiv. About 20 successful projects, including international ones, have been implemented at the business school.
"Smuggling" over the Internet
When Spivakovsky first ordered goods via the Internet, he could not pick up 25 pyramid-shaped packs of tea at the customs office. After all, he could not answer a question from customs officers whether he had a contract for the goods, which was approved by the then Ministry of Foreign Economic Activity and had a stamp of the National Bank of Ukraine on it. Of course, there was no contract, and he was almost accused of smuggling. The head of the customs office suggested: "You must describe this situation in a bill and send it to the Verkhovna Rada. They will pass the bill, issue a bylaw and send us instructions. Then we will give you your parcel back. We have not had such cases before. You are the first who bought goods over the Internet."
It took Spivakovsky a month to prepare the bill and send it to the Verkhovna Rada. After a while, it was passed. But he got the tea before the bill was passed. It was decided to ask the sender to redirect the goods to Vladimir as a private person rather than an entrepreneur.
How to find your niche in the market
One has to keep a watchful eye. Vladimir came up with an idea at Kyiv International Economic Forum in October. A business which would use drones … to clean windows of high-rise buildings. He immediately shared the idea with the audience of an education panel. Spivakovsky himself says he does not compete with giants on the market. He simply finds a weak spot on the market and occupies the niche, creating his own mini-monopoly. He considers it to be the key to success. The same has happened with school education.
Being an opponent of the traditional education system, Vladimir Spivakovsky opened one of the first private schools in 1988. For his six-year-old daughter. In 2018, the Grand high school celebrates its 30th anniversary. "The world's education system is a disaster. Education even in a rich country is in crisis. This is a big problem. And I decided I could solve this problem. But I went further. I found a big niche in the world that is not occupied by anyone."
At first he developed unique techniques for improving secondary education, how to make it interesting and effective. However, he reasoned: there are chains of five-star hotels, golf clubs, yacht clubs and restaurants in the world. But nobody in the world has come up with an idea of a worldwide global network of five-star … schools. "I have developed the so-called five-and even seven-star schools now. My project took part in a contest organized by Laurene Jobs, the widow of Steve Jobs. It was among the finalists. I competed in Hong Kong. And how does the school look like? It's in front of you."
Spivakovsky is moving towards to a 3D layout.
"I know how to turn a budget-sustained school to a highly profitable one. The payback period for such a school is three years. Now they are being designed in Qatar, Dubai, maybe they will appear in Hong Kong and California. This school has a large research center that develops educational technologies for the whole world … I have a patent at the Library of Congress in the United States – the case method is used by tens of thousands of students and teachers in 12 countries nowadays. That is, we in Ukraine have this free of charge, and they pay for this abroad. Some 600 cases. We were taught Physics, Chemistry, Maths. I turn this system down. We take a subject – no matter what it is – a drone, a bus, a jacket, a phone. And we break it down into Physics, Chemistry, and Business studies." he said
These cases have lessons of happiness.
"When I was a student, I developed my 10 core values. And I push them all forward. Not forgetting about any of them. If any sinks, I push it up. Family, the wife, children, money, travel, work, hobbies, nutrition, health, the environment … I am oriented both to the process and the result simultaneously. I have a combined way of thinking. Since childhood I accustomed myself to timing. I do everything quickly and switch attention."