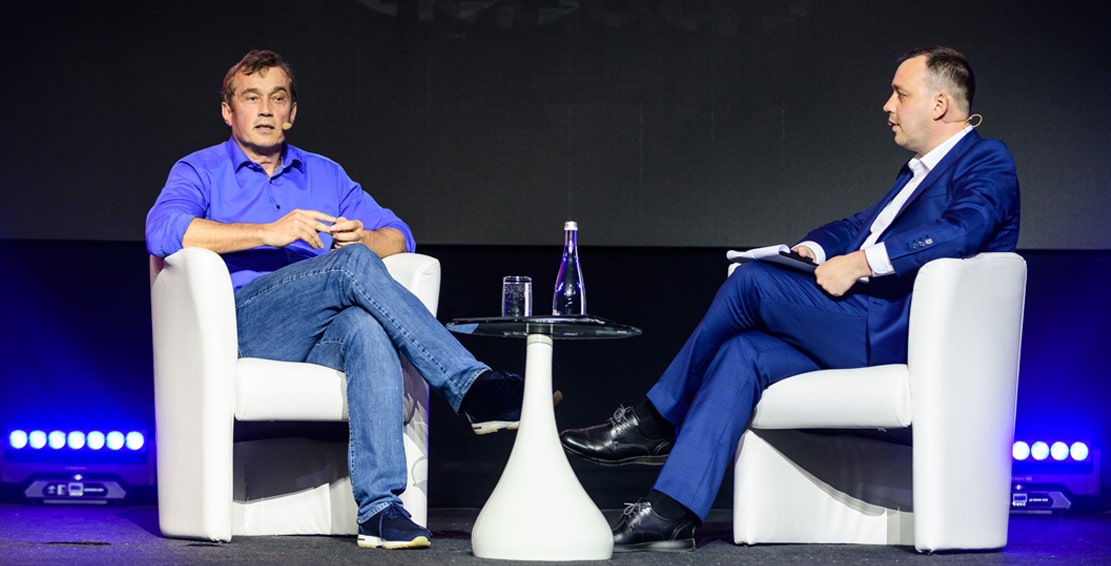 Vasyl Khmelnytsky shared his know-how at Business and IT Leaders Forum
UFuture's founder talked about the most attractive industries where rapid growth is possible, if good education is part of the equation.
On June 14, 2019, Business and IT Leadership Forum was held in Kyiv for the first time. The event was organized within the framework of Terrasoft's Global Tour, a series of events in different countries aimed at exchanging knowledge and expertise between managers, innovators, and representatives of creative industries that shape their business ecosystems.
This large-scale platform which took place at Palats Sportu gathered more than 4,000 participants willing to learn about the main challenges for the market and vivid examples of companies successfully adjusting for the high-speed reality. Among the forum speakers were UFuture's founder Vasyl Khmelnytsky, Biopharma's president Kostiantyn Yefymenko, Nova Poshta's co-founder Vyacheslav Klimov, Fedoriv Independent Creative Company's owner Andriy Fedoriv, Gelarty's founder Massimo Gelarty, Deloitte's managing partner in Ukraine Andriy Bulakh as well as representatives of such well-known brands as Datagroup, Intertop, COSMO, and MULTIPLEX.
In his speech, Vasyl Khmelnytsky highlighted 5 areas that, in his opinion, look most promising for investors:
"I'll tell about the first and the most important area at the end. The second one is food because there is and always will be a demand for it. The third one is medicine as people get ill more often and they want to live longer. The fourth is green energy as the world is facing global warming and all countries invest huge funds to renewable energy. The fifth is IT, artificial intelligence, and big data, and we are currently focused on this area. And the first, the most important area for investment is your education. Without it, everything else doesn't work. Whoever you are, if you do not invest in self-education, you will be poor in old age," Vasyl Khmelnytsky said.
UFuture's founder also emphasized that it is extremely important to be in advance of your time to succeed and explained why he invests in long-term projects: "The biggest challenge for me was UNIT.City. We have invested 70 million dollars in this project. Previously, no one was doing anything like this in Ukraine. Now we build an ecosystem that consists of universities, schools, an R&D center, a co-working ― all this can make startups more successful. We want to create a hub for talented entrepreneurs and programmers where they can have the same ― if not better ― opportunities they would be offered abroad".
Speakers of the forum talked about why and how to move away from outdated management techniques and to take the path of continuous optimization, which is a prerequisite for any enterprise's survival. The core theme of the talks was acceleration due to new business models and technologies as well as globalization.
Kostiantyn Yefymenko told about his company's plans with regards to the aforementioned trends:
"Biopharma is currently ranked 10th in the world among the manufacturers of plasma-derived medicines. Our goal is to become the 5th and take 4% of the world market which is being estimated at $250 billion. We enter countries that have not been reached by the United States yet. Today, we control 3.5% of the Indian immunoglobulin market, and we will gain 70% of it. We want that, in 25 years, when America finally reaches India, it will be greeted with the phrase zdoroven'ki buly!" Kostiantyn Yefymenko emphasized.
As Lewis Carroll wrote in "Alice in Wonderland", "here we must run as fast as we can, just to stay in place. And if you wish to go anywhere you must run twice as fast as that." Enterprises that take into account the powerful acceleration trend, which was described so wittily by the English writer, achieve their goals and conquer new markets.