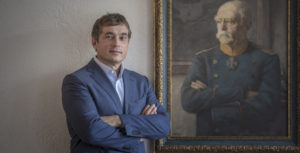 Vasyl Khmelnytsky: "There is no crisis. This is routine, we must work hard"
Vasyl Khmelnytsky, the founder of the UFuture Investment Group, entrepreneur and philanthropist — talks about partnership, competition, the need to work hard, as well as the production of robots in Ukraine
About reassessment amid crisis
I still remember 2008 well. It changed my perception of the world and also for 98% of businessmen in our country. Before that, we were living in an illusion of economic growth. And suddenly everything turned upside down within one year: possibilities, assets, and potential were reassessed. We started looking at the situation differently. We decreased risks taken with borrowed money and invested more in projects that bring current profitability.
About partnership
All managers of my projects are my partners who receive a share in the business at 5-10%. And then they treat the business as owners. In fact, I do not control anything. I only help, teach, supervise, give authority, to solve some global problems. And this is easier. And when they are looking for a director in a company for a salary of $500 and say they cannot find anybody because they all have left, then the problem is with the owner. It's better to give a share to a manager and hire the one who finds the business interesting as much as you do.
About responsibility
All business plans that lie on the table are, as a rule, super-profitable and successful. But when you begin to implement them, you realize that life brings changes. There are partners whose attitude to failures is objective and they share them with everyone else. We appreciate such partners, even if the joint business is not very effective. After all, failures are followed by successes. And there are partners who, having experienced difficulties, immediately escape or turn off the phones, seek excuse for themselves. They are not our partners. We treat such people with great caution.
About motivation of the youth
Brain drain is a big problem in our country. Young people today do not stick to their roots, but are looking for new opportunities. To motivate them to stay, Ukraine should offer opportunities that are not worse than those abroad. And the thoughts about letting them go, study and then they will return are abstract. In fact, they will go, for example, to Poland, will receive citizenship, create a family, their children will go to school there. Most likely, they will not come back. And we have to take this into account. Therefore, motivation for staying means to create conditions for a comfortable life here. Using patriotic feelings, saying "you work now for free and the country will prosper in 10-15 years" is ineffective.
Personal advice
Today, a decade, two decades ago, I would give one advice to all those wishing to be successful entrepreneurs: study and use knowledge in life, do not be afraid of making mistakes, correcting them, and acquire knowledge again and use it again. Only this way can make an entrepreneur successful.
About competition
I welcome competition. It makes me stronger.
About local investors
I would not say that there is too much money in Ukraine. There are some reserves, but they are not huge. The state should create conditions for business development. Western business is monitoring how local business has been developing. To make foreigners interested, we must create conditions for them that are not worse, but a little better than our neighbors offer. But do not fall prey to your illusions. If Poland returns investment from profit, then at least it is what we should do too. In addition, Poland is part of the European Union, and we are not. That means we need to ensure a little higher return on investment. This is a problem of the state. We, businesses, should get together and force the state, or make recommendations to the state, to create conditions not for us, but for the entire market. And let a foreign investor see that it is secure, safe, profitable, and come to us. We are not afraid of competitors, we welcome them. Because when foreign investors are here, we can learn something from them. There are a lot of management technologies in the world that have not yet reached us. And we are ready to learn.
About business aspirations
Every businessman seeks to fulfill his obligations, seeks to work transparently. But conditions are created by the state. And, speaking of a crystal clear business, people should not fool themselves — it's not here. In Ukraine, some Western companies with their corporate culture pay all taxes. Business is looking for legal opportunities to reduce tax liabilities through offshore assets, through various tools. The task of the state is to create the same working conditions for all.
About transparency and "grey market"
It cannot be that someone works transparently and is simultaneously part of the "grey market." There should be either all transparent or all "grey." Because if, for example, I pay all taxes and you do not, then this is not a competitive environment. So I'll go bankrupt. There are no other options. This is how economy works.
About the crisis
I disagree that there is a third year of crisis in Ukraine. There is no crisis. This is routine. The crisis is when they sell the U.S. dollar for 24 hryvnias, tomorrow it is 38, and the day after tomorrow 52. And now it is a normal situation one has to accept and look for opportunities for development.
There is nothing to wait for. We just have to roll up our sleeves, go and find opportunities, introduce technology and succeed. We cannot be compared to China. Many say: "Once China was poor, and look at it now." Our situation is unique. China was poor for a hundred years. It was almost a poor nation. And now it is growing. The Chinese work all the year round, having only four days off. Can you imagine? They are workaholics. But we were rich. Then we failed. And now we are waiting for a miracle, a certain law that will make us rich again right tomorrow. And we want to have more holidays.
About long-term outlook
We have huge opportunities. We can feed not only the entire Europe, but the whole world. And produce products. When will these robots do all work? Somewhere down the line… But the products that we can produce and sell are needed today. So let's produce without waiting for a miracle. And people must work for the long-term outlook.
For example, they ask what the time frame for a project is. Eight years. 'Too long! I am 30 now. No way, I won't go for it.' Why so? Life just starts at 38. Get down to work and you'll be successful at 38. 'Thanks, but no thanks — I want to buy bitcoins and get a Ferrari in a month.' It never happens!
About the future
Our planning strategy is designed for a decade, five years, a year. And every six months we adjust it. We are well aware that the world is not standing still. It is changing, and the model of the business is changing too. Therefore, the strategy can be adjusted to the change, and we know well where we will be in ten years in accordance with each of the scenarios. Join us, try to develop a strategy for a decade. Do not be afraid of the future. If in the world robots replace workers tomorrow, they will be made here, in Ukraine.
I have not yet implemented my most exciting and most successful project. This is a matter of the future.
Vasyl Khmelnytsky
51 years
Founder of UFuture Investment Group
UFuture Investment Group is a conglomerate and investment company representing companies and projects of Ukrainian entrepreneur and philanthropist Vasyl Khmelnytsky in Ukraine and abroad, and coordinates their activities in the international arena.