UNIT.City in the TOP-5 renovations in Ukraine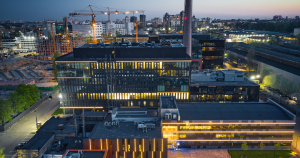 New functions of old buildings can make the urban area livelier and become a cost-effective investment – proven by world experience in redesign and architecture. Over the last 10 years, obsolete objects have also been "revived" in our country and found new meaning in them. In its material, buro 24/7 gives five examples of the unusual use of old objects in Ukraine. One of the examples of "architectural reincarnation" was the innovation park UNIT.City.
Four years ago, the founder of the UFuture holding company Vasyl Khmelnytsky initiated the first innovation park in Ukraine. Thus, in April 2017, UNIT.City appeared on the territory of the abandoned motorcycle plant between Lukyanivska and Dorogozhychi metro stations. Now more than 200 residents work here.
According to the creators, in a few years, Kyiv Technopark will be the largest in Eastern Europe due to the expansion of the former plant to the entire territory. Almost all facilities on UNIT.City is built from scratch, except for the ucode IT academy and the first business campus, which is based on abandoned and dilapidated industrial shops. The innovation park also received a chimney from its predecessor, which was eventually turned into a giant art object — a lighthouse — with a mini-planetarium inside.
Read more about examples of the unusual use of old objects in Ukraine via the link.