UNIT.City entered to the top 5 of iconic objects of modern architecture Ukraine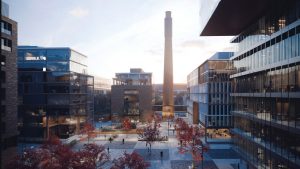 The editors of the Liga magazine together with the expert architectural community named the best modern world-class buildings. The first innovation park in Ukraine, UNIT.City, is one of the five outstanding architectural sites that have been built since 2015 when qualitative changes and development of the architecture of the future in Ukraine began.
The chief architect of Lviv in 2015-2019, Yulian Chaplinsky, speaks about the lack of revolutionary solutions in the creation of structures in favour of simplicity:
UNIT.City resembles a diamond in the middle of a swamp — an industrial zone, an old housing stock and broken roads. The architects did not apply revolutionary solutions, but perfectly implemented the project of the European school of architecture.
In turn, the architect of the studio Buro-o Dmitry Makogon considers UNIT.City a model of construction progress:
Rethinking the industrial zone and turning it into an IT cluster on the model of the Google campus is a progressive solution.
Now an exceptional architectural complex of UNIT.City facilities with three business campuses and coworking have become home to 108 resident companies. Among them are four laboratories, eight accelerators and three investment funds to support and develop Ukrainian startups.