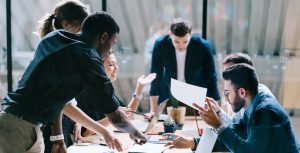 Ukrainian Startup Fund, with UAH 390 million, has been presented in UNIT.City
Kyiv, UNIT.City. July 11, 2019. – Ukraine's Prime Minister, Volodymyr Groysman, and Minister of Finance, Oksana Markarova, presented the first Ukrainian Startup Fund. The state has already allocated UAH 390 million to support new companies and provide them with grants from $25,000 to 75,000 for two years.
The Fund is supposed to provide not only financial assistance to promising innovative start-ups and their projects but also guide them in the process of scaling and their quest for investment. Government officials are convinced that the Fund will stimulate Ukraine's scientific and technological development and help to bring new competitive goods and services to the market.
"Startup funds are a quality tool that is widely used in developed countries. Now, there will be one of them in Ukraine. We have to make it transparent, progressive, and effective," said Prime Minister Volodymyr Groisman.
The general management of the Fund will be carried out by Supervisory Board consisting of Olena Kosharna (founder of Horizon Capital), Lesya Sevruk (ECG), Victoria Tihipko (TA Ventures), Charles Whitehead (Cornel Tech), Deputy Finance Minister Yury Heletiy, Oleksandr Ryzhenko (State Agency for E-Governance), and Dmytro Shymkiv (Darnytsia).
The Fund was created based on the experience of European countries such as Austria, Poland, Finland, and Sweden.
"First contracts will be for grant financing, the second phase will be credit financing for successful projects on preferential terms. Our task today is to find co-financing, and we are currently negotiating with many donors," said Oksana Markarova, Minister of Finance.
Selection of projects will be conducted by a committee formed by Supervisory Board. Ukrainian entrepreneurs are encouraged to submit their applications online on the Fund's website starting from September. The committee will evaluate the projects, organize pitching session, and then select the winner with whom the agreement will be signed. The main criteria for success are innovation, commercialization, team, and project's sustainability.