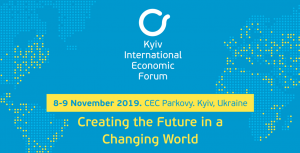 "Ukrainian Davos": what to do and who to listen to at KIEF-2019
One of the largest economic forums in the country, the Kyiv International Economic Forum, will take place on November 8 and 9. Unofficially called the "Ukrainian Davos," the event brings together international and Ukrainian experts to discuss both Ukraine's prospects and opportunities and global trends affecting business and society.
Almost half of the forum's speakers are foreigners. All of them will spend two days here, they will be available for acquaintance, exchange of experience and establishment of business contacts. Among the guests are Alibaba's founder Jack Ma, managing director of the Rothschild international banking group in the CIS countries, Giovanni Salvetti, digital transformation director of Shell and NCOC Adam Lawmass, director of EBRD in Eastern Europe and the Caucasus, Matteo Patrone, and many other speakers.
"Ukrainian Davos": what to do and who to listen to at KIEF-2019 – guide