Ukraine's Victory and Facebook's Scandal: Key Insights from Web Summit 2021 in Lisbon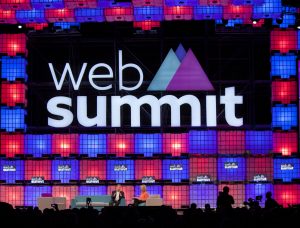 On November 1-4, UFuture holding company's team visited the biggest technological event in the world, Web Summit 2021, and got the latest insights about large-scale technological changes in the world and Ukraine's place in this process.
"The speed of technology is really impressive and inspiring. For example, Amazon's Alexa virtual assistant now allows you to control all devices in the house with voice commands. I also noted a negative trend. When politics is added to the innovation, business loses interest. For example, we expected more useful insights from Facebook's vice president speech. But instead he talked mostly about the policies and ethics of the global corporation," said Vasyl Khmelnytsky, the founder of the UFuture holding company.
Facebook is really receiving a lot of attention. According to Constantine Yevtushenko, managing partner of the UNIT.City innovation park , which is developed by the UFuture holding company, a grand scandal broke out with Facebook. It's CEO, Mark Zuckerberg, is the biggest antihero in the world now. At the Web Summit, only the lazy did not criticize Facebook, Yevtushenko explained. The reason was the information leakage about the social network's promotion of posts that polarize society, including the misinformation posts.
Two Constantine Yevtushenko's insights from Web Summit 2021:
transport in the world will be electrified, this is not even discussed;
new cult in Europe – the concept of a 15-minute city: all cities will be optimized so that from anywhere you can get anywhere in 15 minutes.
The Ukrainian pavilion was presented for the first time at the Web Summit 2021 with the support of a resident of UNIT.City, the Ukrainian Startup Fund. And although it was one of the smallest pavilions, compared to other countries, attention was focused on it. The UFuture team noted that there was often not enough space in the Ukrainian sector for those who wanted to learn about our IT industry.
Thus, one of the startups represented in Lisbon was the effa eco-project, another UNIT.City resident. Effa is engaged in the production of toothbrushes from paper and other environmentally friendly materials.
"The amazing presence of Ukraine! The Ukrainian stand was packed all day long. We didn't have a big budget to put it together, but we had a lot of amazing people! That was definitely, during the entire Summit, one of the places to meet people, gather, learn. It's really cool to see a community really coming together. The success of our startup is here. Our friends at Effa were in the top 15 of the startup competition and were able to pitch on center stage. That is the first Ukrainian startup to make it! And that gave all of us a lot of visibility and curiosity" Dominique Piote, UNIT.City CEO, said.
Holding vs ecosystem
Nicholas Tymoschuk, UFuture CEO, noted the business development strategies discussed during the summit.
"A holding company usually has many disparate assets or companies that have little or nothing in common. They do not interact with each other. An ecosystem is a single point of customer access to an integrated portfolio of goods and services built on a single platform and technology infrastructure with many common elements. More simply, an ecosystem is one of many components. Holding is a way of diversifying risks and profits in business," he explained.
More than 40,000 people gathered in Lisbon and spent four days studying, sharing experiences, presenting their products and services.
A large technological event, the U Tomorrow Summit, also took place in Kyiv in September. It attracted more than 1,500 participants from around the world. Next year, the teams of UNIT.City and the Kyiv International Economic Forum plan to hold a techsummit, which will be attended by about 3,000 participants. Thus, the largest technological event in Eastern Europe will be launched in Ukraine.