Ukraine's Place in the New World. Notes from the Business Wisdom Summit 2021 in Kyiv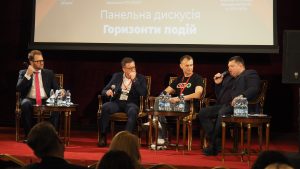 Owners of the businesses do always have a special vision, knowledge, judgment, Nicholas Tymoshchuk, CEO of UFuture holding company, said at the Events Horizons panel opening during Business Wisdom Summit in Kyiv, Ukraine, on Nov 26, 2021.
He and his co-panelists, Boris Shestopalov, co-owner and managing partner of HD-group, founder of GFS GROUP, Taras Barshchovsky, founder of T.B. Fruit, Alex Kovalenko, owner of EPI Group, ЕПІКУР (EPICUR) and ЕПІ ХЕПІ (EPI HAPPY) brands, discussed the following topics:
New markets (Free Africa or premium Japan: where is the place for Ukrainian exporters?);
Window of opportunity (Deep processing, food technology and foodtech – an inevitable stage in the evolution of the raw materials business);
Distributed future (Agrarian superpower, new Silicon Valley or brain incubator for sale: how do businessmen see Ukraine's future?).
"Our panel is called "events horizon". In astrophysics, this is the name of the part of black holes where the laws of physics cease to apply. Actually we do not know what is happening behind it, we can only guess. Today, this term is associated with Ukraine's opportunities in the international market, in particular in the food market: according to some politicians, we should flood the whole world with them, but so far this is not happening. On the contrary, in many segments we cannot even secure our own market. On the one hand, Ukraine is the largest exporter of agricultural raw materials, and on the other – the food markets of near and far abroad are limited by quotas, duties and even prejudices against Ukrainian products," Nicholas Tymoshchuk explained.
Often, Ukrainian businessmen simply refuse to invest decades and millions of dollars in capacity development that will one day put their brand on the shelves of a foreign supermarket, he added. It is much easier to sell raw materials or semi-finished products that right now are in demand and have a fair market price.
At the same time, the world is evolving and changing very fast. It is possible that in the near future our largest asset, fertile land, will cease to be an asset. There are changes in both production and consumption. People, for example, eat more and more meat substitutes and generally live differently. Where is Ukraine's place in this new world?
"Although we produce products almost like commodities, namely bread, flour and some others, even in this segment we try to be the best. We do not set a goal to take first place, but we set a goal to go through difficult times. Despite the crisis, we did not reduce investment in 2019-2021. We strive to be efficient in the national market with a significant share in all categories where we are represented. And also to be effective in export", Boris Shestopalov from HD Group said.
"We chose the path of food production without additives. We started with chicken, and moved on to new segments. Our growth is due to the growth of people's consciousness. Our ambition is for people to become more conscious of themselves, their well-being and their health. If we achieve this, our brand will grow as well," said Alex Kovalenko, owner of EPI Group.
"I never set a goal to be the first, but gradually we became one of the three largest producers of concentrated juices in the world. We have exports all over the world, from Japan to California. All regions of the world have Ukrainian apples, raspberries, currants or cherries – as a puree, juice or frozen. Our goal was to take a market geographically, after which we started working on margins. Today we make seven products only from apples. We have one of the three plants in the world that produces apple pectin. By constantly investing, we achieve our goals both in margins and geographically," added Taras Barshchovsky, the founder of the T.B. Fruit.
The world is changing. The new generation is more conscious and responsible. Young people ask for more environmentally friendly products. This is a general trend that is already emerging in Ukraine. Therefore, the world will be moved forward not so much by laws and governments as by people, Alex Kovalenko believes. Also, in his opinion, an important and encouraging trend for producers is the growth of national consciousness – when people prefer national products.
Business Wisdom Summit, a conference for owners and top managers, has been held annually since 2012 at the initiative of Delo.ua.