"Ukraine has every chance to become the world's production hub," Volodymyr Khmurych, director of the Bila Tserkva Industrial Park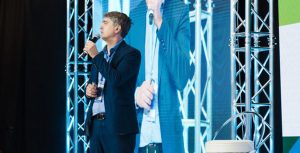 The pandemic and related quarantine restrictions have forced the whole world to think about reducing supply chains and associated risks. Immediately after the start of the lockdown, entrepreneurs began to explore the possibility of moving production from China to other countries.
In April, a survey by EY found that half of the business respondents surveyed would change their suppliers due to the pandemic. Many companies around the world are looking for new supply schemes and contractors.
According to Volodymyr Khmurych, director of the Bila Tserkva Industrial Park, Ukraine has enormous resource, scientific and human potential and is at the initial stage of joining global supply chains, gradually moving from a raw material model of the economy to the production of high value-added products.
"The trend to relocate production has been set, although it has not yet been finalized. We target international and local companies and see that the former are forced to diversify production and reduce supply chains. Others localize production, striving to deliver products to customers just in time," explained Volodymyr Khmurych.
According to the top manager, among the companies that can hypothetically transfer production to Ukraine, will be primarily those who have felt the effects of the coronary crisis most acutely. In particular, we are talking about the automotive industry, high technology, FMCG and medicine. Whether players in these industries view Ukraine as a production hub is a question that is regularly monitored and discussed with potential residents in the industrial park.
Read more about how the world economy will be affected by industrial migration, problems and investment realities in the article GMK-center "Migration plants: Can Ukraine to attract industrial investors".