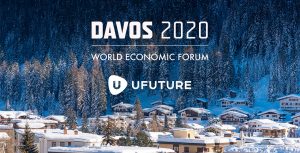 UFuture will support Ukraine House Davos at the World Economic Forum-2020
UNIT.City Innovation Park (UFuture project) sponsored the Ukraine House Davos panel, the third annual event at the 50th World Economic Forum, focusing on Ukraine's investment, technical and creative capabilities. In 2018, more than 5,000 people attended the event, and over 7,000 people in 2019.
This year, Ukraine House Davos, a multi-format hub, presents the country and its economy to world business leaders with the theme "Ukraine: Creativity, Innovation, Opportunities". According to the organizers, the hub reflects the dynamic and innovative Ukrainian society, which fosters creative talent with a passion for freedom and openness.
Nicholas Tymoschuk, CEO of UFuture, will be the moderator of the panel "Innovation Begins with Education: Fostering the Next Generation of Trailblazers". Also in the panel will be Dominique Piotet, CEO of UNIT.City.
Within the framework of the World Economic Forum Ukraine House Davos will also visit Vasyl Khmelnytsky, founder of UFuture.
Ukraine House Davos will be held on January 20–24, 2020.