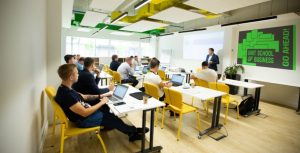 UFuture Opens UNIT School of Business in UNIT.City
Kyiv, October 8, 2019. — On the basis of Small and Medium Entrepreneurship School (SME School, the project of Vasyl Khmelnytsky's K.Fund), UFuture opens UNIT School of Business in UNIT.City. The first open day at the new educational institution will take place on October 10 in UNIT Factory, Kyiv.
UNIT School of Business works in a new format for Ukraine: the program includes 119 hours of practical work on each participant's real business instead of theoretical lectures. Entrepreneurs bring their daily tasks and look for profitable ways to solve them together with teachers. For this, the school's experts have developed short practical programs for business modeling, marketing, sales, brand building, effective innovative tools that are easy to apply in the work of a small and medium Ukrainian business.
"We've created UNIT School of Business because in Ukraine, we haven't found any entrepreneurship school organized at a really great level. We understand how difficult it is for an entrepreneur to take a break even for two months, not to mention two years. Therefore, our programs are short and effective,"Artem Makeev, CEO of the project, said.
Creators of UNIT School of Business have taken into account the experience of the educational business project "Superludi" ("Superpeople") and SME School (1.5 thousand graduates in the past three years). The mentors of the institution are market experts and business practitioners of UFuture, UNIT.City innovation park, UDP development company, Biopharma innovative pharmaceutical company, ITernal group of IT companies and an ecosystem of tech solutions, Lean Institute Ukraine, and "Superludi".
"Nine out of ten businesses in Ukraine are closed during the first year of existence. Not because of external reasons, but because of the lack of knowledge. We've collected the necessary knowledge and will help to apply it in business," Vlad Nozdrachev, partner of UNIT School of Business, Founder and Project Manager of "Superludi", said.
UNIT School of Business is a part of UNIT ecosystem which includes, in particular, Ugrow (a closed community of entrepreneurs with regular events, group coaching and mentoring support, access to which is available to students of UNIT School of Business), INDAX accelerator (helps to build production, including investments), Sector X accelerator (finds clients and partners in IT field and helps businesses enter the western market).
The open day at UNIT School of Business will start on October 10 at 16:00. The program of the event includes speeches by representatives of the business school and Ugrow, informal communication with graduates of SME School. The first 100 people who register at https://forms.gle/nGUDtomazJ3B7KXL7 will be able to take part in the open day.
The launch of the new curriculum of UNIT School of Business will take place on October 21.