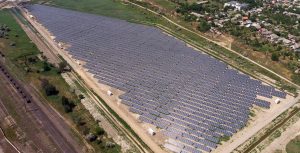 UDP Renewables launches its new 8.6 MW PV PP
The total investment in the project stands at EUR6.75 million.
October 3, 2019. – UDP Renewables has launched its photovoltaic power plant Port-Solar in Izmail, Odesa region, with a peak capacity of 8.6 MW.
"By bringing the experience of our partners, UFuture and UDP Renewables are working together to ensure that energy production in our country meets the best environmental and energy efficiency practices worldwide. Our goal is over 300 MW by 2022. We are currently following our plan, gradually implementing projects in areas with the highest solar activity, namely Odesa, Zaporizhia, Kherson, and Mykolayiv regions," Vasyl Khmelnytsky, Founder of UFuture, said.
PV PP Port-Solar, with a peak capacity of 8,6 MW, occupies ​16 ha. More than 25,700 solar panels made by Jinko Solar, the world's biggest manufacturer of solar panels, have been installed at the facility. The photovoltaic power plant will produce around 11,830 MWh of electricity per year – enough to meet the needs of at least 3,200 households. The co-investor is a Slovak company E-Group. The general contractor is Metropoliya Group.
"In recent years, the solar energy industry in Ukraine has been transforming into a powerful and rapidly growing sector. The share of renewables in total electricity production already exceeds 3%. We have a clear and well-defined goal: 100% renewables in the energy balance of the country. PV PP Port-Solar is our next strategic step. We have attracted E-Group company which is an experienced international investor, and the best specialists in the industry," Serhiy Yevtushenko, Managing Partner of UDP Renewables, emphasized.
The cost of equipment produced in Ukraine amounted to about UAH 72.4 million. The total amount of taxes is over UAH 3.26 million. 135 jobs have been created at Port-Solar.
Port-Solar's operation will allow to reduce carbon dioxide emissions by 13,500 tons per year.
ADDITIONAL INFORMATION
UDP Renewables is an investment and development company in the Ukrainian renewable energy sector. With diversification in type of renewable power generation and geography, by 2022 UDP Renewables strives to become one of the largest producers of clean energy in Ukraine, with total capacity of more than 300 MW. UFuture, a holding company of Ukrainian entrepreneur, Vasyl Khmelnytsky, that integrates his business and impact-investment projects, is a strategic investor of UDP Renewables. UFuture has a diversified portfolio of assets in the fields of real estate, infrastructure, industry, renewable energy, pharmaceuticals, and IT. Currently, UFuture's assets are estimated at $550 million, and the total capitalization of the businesses it invested in is more than $1 billion.
E-Group is a part of the INDUSTRY investments sub-fund that invests in energy. It belongs to the portfolio of the qualified investors fund ZMJ SICAV.