"Today changes is stable life," Vasyl Khmelnytsky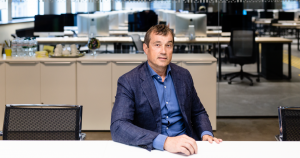 Impact investor and apologist of innovations and education, founder of the holding company UFuture, Vasyl Khmelnytsky told NV about the levers that can shift the economy of Ukraine in the short term and why remote work is inefficient for the employer.
About remote work
I am against remote work, so everyone in my company goes to the office without exception. A year with the coronavirus taught me that remote employee work is inefficient for a business owner. It is convenient for managers, for employees, but not for the employer because business is a team game. Even at Google, the "remote work format" of employee performance fell by 20-45%. Therefore, companies that don't build a corporate culture and team will lose and disappear. I believe that up to 85% of business management teams will return offline. As a result, office real estate has a future.
About production and talents
I believe in production, so now I am focused on implementing innovations to produce products that can be sold in Ukraine and around the world. It not only drives the economy but also adds more value and innovation to the Ukrainian industry. Even the innovation park UNIT.City can be considered a production where the main product is talent. Now all countries of the world are hunting for talented specialists, and it's becoming a problem for Ukraine. That is why many of our staff are only enticing. Therefore, the innovation park's primary goal is to create conditions for talents to remain in Ukraine and succeed.
About resumption of air transportation
This market will return to the same state it was in 2019, only in about four years. We now maintain Kyiv Airport at the expense of our other businesses. We always hedge risks by having companies in different directions so as not to lose.
About support of small and medium business
In Poland, entrepreneurs are taught how to provide the right tools, not money. If an entrepreneur manages to make money on his idea, he drives the economy. Not all participants in such a project achieved their goals, but those who succeeded created hundreds of new jobs. Giving a person tools and working capital is the same as hoping for success.
About education
A quality school needs educated teachers, who, in turn, need to be well paid. It is even better if foreign specialists will teach the school with experience in Canada or America. Such teachers need to be paid even more. In Georgia, EIT has been introduced specifically for teachers. Those who passed, demonstrating English knowledge, teamwork and continuous development, raised their salaries three times. High earnings stimulate young professionals, and this has allowed updating the education system of Georgia.
About the world of the future
The world of the future is massive inequality between rich and poor. It will grow. Modern technologies and innovations push for this. Therefore, it is necessary to create conditions under which more people in Ukraine will earn money so that the economy moves only faster.
Read more about tips on where to invest, the future of the country's economy and what talents the innovation park "produces" in the interview via the link.