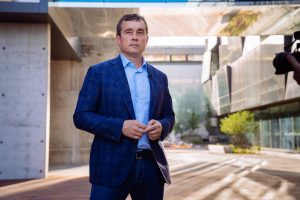 "The one who hid to survive the crisis — lost," Vasyl Khmelnytsky, founder of UFuture
The crisis caused by the pandemic is clearly not like any of the previous ones. The founder of the holding company UFuture Vasyl Khmelnytsky calls to learn from this situation to make your business more efficient.
Its impossible to prepare for the crisis. Each subsequent recession will not be similar to the previous one. In 2020, the world faced not only a financial crisis but mainly a consumer crisis.
The issue of international lockdown will be relevant for a long time. The crisis is only a catalyst for trends and processes. Countries that are developing and want to be self-sufficient should encourage the creation of their own industries.
From the good news: now is the time to do business. Thinking about opportunities, acquiring knowledge and remember — the one who hid to survive the crisis — a priori lost.
Read more about the lessons and opportunities that should be learned from the coronary crisis in Vasyl Khmelnytsky's column for NV.