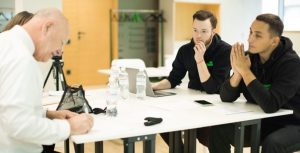 "The main reason for the collapse of entrepreneurs — lack of knowledge," Artem Makeev, managing partner of Unit School of Business
Experienced businessmen are willing to invest in the development of SME projects but often refuse because entrepreneurs lack a good product of knowledge on how to use investors' money wisely. That is why it is important to learn from experts how to optimize costs, increase profits, scale the business and enter new markets on their own or through investment, said Artem Makeev, managing partner of Unit School of Business.
To help Ukrainian entrepreneurs, the founder of the holding company UFuture Vasyl Khmelnytsky together with partners Vlad Nozdrachov and Artem Makeev created the Unit School of Business (USB). The school's methodology was developed together with representatives of the University of California, Berkeley.
"If you don't have money and you can't grow a business, then you lack knowledge. There is more than enough money on the market," Vasyl Khmelnytsky said.
Training at the USB school consists of 18 modules and lasts 8 weeks. During this time, participants master seven areas — business model, strategy, marketing, sales, finance, management and team building. All classes are held in two formats to choose from: in the school training centre on the territory of the innovation park UNIT.City or remotely. The school's experts are entrepreneurs and top managers, marketers, financial advisors and business analysts.
Read more about what awaits entrepreneurs and what opportunities the Unit School of Business offers in the MC.Today article.