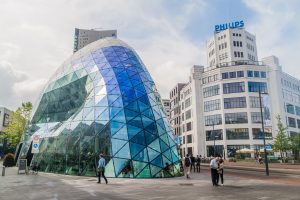 The light of innovation: how Eindhoven becomes a Dutch Silicon Valley thanks to Brainport
Eindhoven is a small town in the south of the Netherlands. The global creative community knows it as one of the coolest centers of innovation in Europe and an exemplary "smart city", where technology provides people with a comfortable and safe life, and at the heart of the concept of the city — a focus on design.
In the XIX century, the Philips concern was founded here. After the closure of factories in the late '80s, the city experienced a period of decline and became for some time the saddest social halo of the Netherlands. However, it should be said that Philips attracted high-tech companies to the city, which later separated from the concern and created their own products.
Now Eindhoven is booming and blooming, attracting young professionals from all over Europe, tourists and investors. It has become a city of design and technology. This is largely due to Brainport, a huge innovation park that combines accelerators, incubators, and R&D centers and creates an ecosystem in which innovative startups are born.
Brainport is a symbiosis of high-tech campuses and businesses that work closely between private companies and educational institutions. This is where the Eindhoven University of Technology is located. More than 20,000 researchers coexist with student teams and startups in Brainport at the same time. R&D centers are integrated into the infrastructure, which creates ideal conditions for the commercialization of breakthroughs, but at the same time risky products and technologies.
Thanks to Brainport, the Netherlands is perceived as the Silicon Valley of Europe, which has an effective environment for launching pilot projects. The innovation park provides independent final checks of conformity of production to the world standards in various areas. Thus, the region gives companies the opportunity to gain a foothold in international markets, and companies are offered a full range of tools for the competitive production of high technology.
Here, startups can work with giants such as Philips and ASML. The latter are fully responsible for the design and life cycle of the product. Brainport has a large number of incubator and accelerator programs, and the University of Eindhoven is known for its partnerships with industry and unprecedented expertise in knowledge assessment.
The innovation park has strong government support, which is focused on technology development. This partnership contributes to the development of a unique platform that effectively and widely implements high technologies. Therefore, in Brainport, the process from the initial development of products to their entry into the market is incredibly fast.
In general, in Eindhoven, a lot of attention is paid to urban landscaping and environmental design. Priority in the city is given to bicycle traffic. Every year, Eindhoven hosts a global event, Dutch Design Week, which has international status and attracts the world's creative community, artists, and technologists.