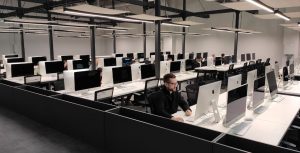 The first qualifying round of training has started in UNIT Factory in Kharkiv
On November 11, the first qualifying round of education has begun in UNIT Factory in Kharkiv. An innovative institution opened by the Foundation of Vasyl Khmelnytsky, K.Fund, prepares programmers through its own training program "ucode". Education will start in January 2020 and will last for 1-2 years.
About 60 people wishing to become the students of UNIT Factory have entered the free marathon, where one can try one's hand and learn the basics of programming in C. Future programmers have become acquainted with the team of the innovative campus and begun training in accordance with the software package "ucode" on the latest iMacs.
"In the course of developing the program "ucode", our team has studied the best practices in the world. We have paid attention to the challenge-based learning method initiated by Apple. Taking the best of this approach, we combined it with the peer-to-peer method. There are no teachers, lectures, notes in "ucode". Instead, much attention is paid to individual and group work on real projects. The program "ucode" was developed jointly with specialists of the National Technical University "Kharkiv Polytechnic Institute" and using the experience of the Foundation of Vasyl Khmelnytskyi K.Fund," UNIT Factory's leader, Florin Becher, said.
Each participant will have four weeks of intensive challenge-based-learning training, dozens of tasks and the implementation of their first projects. In the first few days of the marathon, students can learn programming tools, complete two individual challenges and begin the formation of a new progressive community in Kharkiv.
In total, three marathons are planned, the next one will be held in January and February 2020. Anyone who is 17 years old, regardless of educational background and profession, can apply for the selection.
More: https://unitfactory.net/