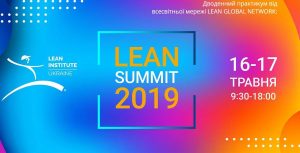 The first Lean Summit in Ukraine starts in Kyiv
The heads of the leading Ukrainian companies will share the secrets of implementing lean technologies.
On May 16 and 17, 2019, UNIT.City will host the first Lean Global Network summit in Ukraine. Lean Institute Ukraine, the organizer of the event, has invited owners and top managers of such successful Ukrainian enterprises as Nova Poshta, Kyivstar, Alfa-Bank, Myronivsky Hliboproduct and also the members of UFuture investment group – Biopharma and "Kyiv" International Airport. The speakers will tell about the ways lean technologies improve the performance of their companies.
The summit is aimed primarily at those who would like to gain practical experience.
On the first day, representatives of the leading Ukrainian companies and world-renowned lean researchers will tell about how their methodology can prevent waste of resources, increase the efficiency of personnel, and create products and services that will have the highest value for customers. The key speaker of the event is the founder of UFuture investment group and the head of the supervisory board of Lean Institute Ukraine Vasyl Khmelnytsky who is one of the main ideologists of promoting lean-thinking in Ukraine.
On the second day, practical training will be held using a special model factory. Today, only five model factories function in the world: in the USA, the Netherlands, Italy, Turkey, and now also in Ukraine.
Here you can find the full program of the event as well as the registration form.