"TEAM IS THE MAIN ENGINE OF UFUTURE'S GROWTH," NICHOLAS TYMOSHCHUK, CEO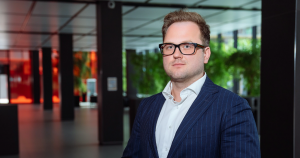 No business development or transformation would be possible without the on-going, comprehensive involvement of all staff. That's why at UFuture holding company we rely on people as the main engine and tool for development and transformation, Nicholas Tymoshchuk, UFuture CEO, said in a comment for KPMG Ukraine – Ukrainian Business Leaders Outlook 2021.
"It is our people who find, develop, and implement the technologies and innovations that subsequently change our business and our lives. To this end, we are constantly learning and even created UFuture University; a comprehensive corporate training programme which any employee can join that covers a variety of areas and topics. Our goal is to gradually create the educational ecosystem of the future. However, learning alone is not enough either. After all, without the active and systematic application of new knowledge in practice, any knowledge or technology will atrophy and disappear. That is why today UFuture Holding and our portfolio of companies and projects live as a single ecosystem, often co-operating with each other, sharing experience, expertise, and opening new markets, opportunities, and ideas with each other," said Nicholas Tymoschuk.
He added that communication is also very important. At UFuture, we make sure that everyone feels like they are involved and participating in the big ideas and projects we implement every day. Everyone needs to understand the company strategy; why and for what reason some changes take place, certain technologies are introduced, or priorities are updated. Furthermore, effective communication helps to better understand each other and this is vital for conquering new markets, and making competitive breakthroughs or outstanding discoveries.
Ukrainian Business Leaders Outlook 2021 is the fourth annual report from KPMG in Ukraine team based on information from Ukrainian business leaders survey. This study examined how the Covid-19 phenomenon has caused companies to adjust their development strategies, and influenced their long-term vision for business growth, their business model, and future investment decisions.
Some insights from the study:
business leaders in Ukraine are optimistic and expect their companies to develop dynamically and achieve organic growth by means of innovation, capital investment, new products, and more recruitment;
however, global executives are mostly focused on less organic tactics for growth: strategic alliances with third parties, mergers and acquisitions (M&A) agreements, joint ventures, and outsourcing;
respondents in Ukraine named regulatory risk as the biggest threat to business growth over the next three years, whereas international outlooks identified a three-element bundle of threats to growth: supply chain, cybersecurity, and climate change risks.
Read the full version of the Outlook on the KPMG in Ukraine website.