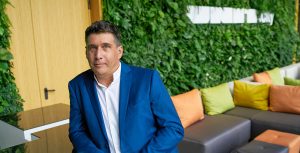 "Startups must change to survive," Dominique Piotet, CEO UNIT.City
Its always difficult for young and vulnerable startups to experience periods of instability, because they're usually hardly profitable. Today's crisis is unlike any of the previous ones, but Dominique Piotet, CEO of Ukraine's first UNIT.City innovation park, believes, that many lessons can be found in the past. The top manager shares his rich and unique experience and advises entrepreneurs in times of future change:
to objectively evaluate the readiness of the market for a new product, to analyze whether it has enough consumers;
to take advantage of new opportunities and to predict what products and services will be in demand in the near future (today its clear that these are, in particular, remote work services, e-commerce, VR/AR development, medical equipment etc);
be flexible and ready to change quickly;
to understand what the crisis will lead to, and only then to begin preparation and adaptation — after all, the major changes will happen not for technologies, but for a market that is constantly evolving.
Read more information on what issues a startup owner needs to ask himself or her to survive and continue to work, in the first author column of Dominique Piotet for NV.