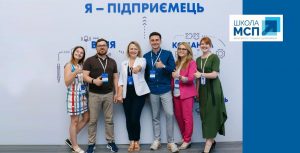 Small and Medium Entrepreneurship School opens a program in Kryvyi Rih
Small and Medium Entrepreneurship School (SME School, an educational project of the Vasyl Khmelnytsky foundation K.Fund) started recruiting in Kryvyi Rih for owners and executives of existing businesses, enterprises, key areas, and startups. The training will start on March 19, 2020.
The SME School program provides six days of the intensive training, advisory support from leading experts in the organization, development and management of small and medium-sized businesses, the development of an effective strategic development plan for an existing business or startup business plan, and new dating, business contacts and the opportunity to join to a community of like-minded people.
The SME School promotes entrepreneurship by providing quality, timely knowledge and practice effective skills to entrepreneurs with the different levels of experience, and offers:
the ability to get the right information and tools in no time;
personalized approach from professionals;
systemic vision and modern methods of entrepreneurship;
knowledge and skills necessary to create and develop your own business;
the ability to avoid mistakes in the organization and running of business;
a chance to become part of an all-Ukrainian community of entrepreneurs with more than 1000 graduates from 14 cities.
The tuition fee is 2500 UAH, the other 70% of the tuition is covered by K.Fund. The price includes coffee breaks, lunches, handouts and personal tutorials from teachers.
Venue: ArcelorMittal University, Kryvorizhstal street, 1
Contacts for details: Julia Lidich, [email protected], +38 096 740 72 71
Registration: http://bit.ly/2Rn2HML