"Seven habits that will lead you to success," Vasyl Khmelnytsky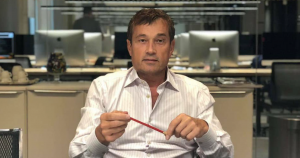 "I want to see as many successful entrepreneurs in Ukraine as possible, and see their business develop the country's economy," the founder of UFuture holding company named MC.today seven habits that helped him create a successful business and enter the Forbes list.
Positive thinking
During the 2008 crisis, one of Vasyl Khmelnytsky's companies lost about $200 million: "It was a difficult time for me and my team. But as soon as we changed our approach and started to treat the crisis not as a problem but as a task to be solved, things changed."
"If you are healthy, if you can learn and make decisions and move forward, use these opportunities to succeed," says Khmelnytsky.
Sport
If a person does sports three times a week for half an hour, his or her brain begins to work 15% better. "I work out four times a week, usually it is jogging. As a result, I get a huge energy boost, it helps me to be more efficient," says the entrepreneur.
Self-education
The world is changing very fast, so it is impossible to learn something for life. You need to improve your skills and gain new knowledge every day.
Efficient time management
What we can learn from our Internet use habits: "If 75% is useful, informative content, then you are on the right track. If your visits are 50% useful and 50% entertaining content, then you have a chance to succeed. But if 75% is entertainment, I would recommend you reconsider the habits, otherwise, it will be more difficult to achieve your goals.
Healthy lifestyle
An average smoker spends 6 to 10 minutes on one cigarette. If he or she smokes 10 cigarettes a day, that's about an hour. And up to 400 hours a year. People who have a healthy lifestyle can spend this time on developing themselves, their business and thus achieve their goals faster, explains Vasyl Khmelnytsky.
Financial literacy
Finances are not the easiest thing, so many prefer to give them to the CFO. But if you do not understand and control the process, sooner or later your business will be owned by your CFO.
Environment
Surround yourself with positive people who are stronger or equal to you. Find a senior partner or mentor who can share experiences and give advice. Almost all successful businessmen have their social media profiles, and many have YouTube channels: watch, listen, implement.
For more information on what habits make a person successful and influential, read via the link.