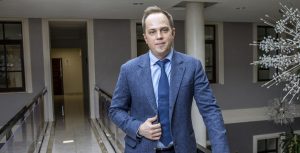 Sergiy Yevtushenko: "We must use the opportunities that the market gives and not be afraid of changes and risks"
In order to transform a startup into an effective company with at least 5-10 years development prospects, its important to adhere to ecosystem interaction, believes co-founder and managing partner of UDP Renewables (UDPR) Sergiy Yevtushenko. The top manager is convinced that cooperation with partners leads to faster development and is impossible regardless of the resources, time and efforts of the team. This approach has allowed UDPR to become a powerful company with a capitalization of more than €150 million in less than 3 years.
"We think of the paradigm of the ecosystem approach, but we use many different tools. First, we are in no hurry. Secondly, we occasionally hold strategic sessions. When there is a market opportunity to build a large business in the field of green energy, but there are limited time, financial and other resources, then the application of the ecosystem concept is the most competent, most productive step," Sergiy Yevtushenko explained.
Read more on how to minimize and control risks, and effectively apply an ecosystem approach when building a company strategy and business model in partnership, in an interview with Sergiy Yevtushenko for NV: "The ecosystem approach allowed us to grow from scratch to a company with capitalization more than €150 million"