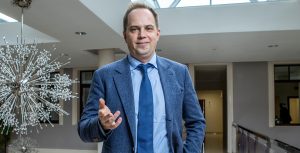 Sergiy Yevtushenko: "Delayed problem solving of power engineers can lead to dramatic consequences"
According to the survey Ernst&Young, in 2019 Ukraine was the first in Europe and the seventh most attractive renewable energy market in the world. The total investment in more than 6.5 GW of new capacity is estimated at $10 billion. Only in 2019 operating companies paid 19.8 billion UAH of taxes. Currently, the "green" industry is one of the most transparent in Ukraine. Up to now, the legislation has allowed investors to be protected from corruption risks. But the cloudless sky of the Ukrainian RES market has been overshadowed by signs of crisis approaching, said Sergiy Yevtushenko, managing partner of UDP Renewables.
Among the threats to the "green" market, the top manager identifies:
inconsistent state policy on industry regulation, in particular: the possibility of retrograde review of game rules and tight regulatory restrictions;
lack of major investment projects, aimed at increasing the flexibility of the national grid against worn networks, unable to absorb increasing amounts of green energy;
distorted pricing system per kilowatt-hour of energy and the risk of technogenic system crashes, crashes, and shutdowns of entire areas.
According to the top manager, retroactive changes in the tariff for the Greens will not correct the existing imbalances in the market, and Ukraine will be covered by a wave of claims in international arbitration. The defaults of hundreds of market participants that have been credited with dozens of banks and international credit institutions, will probably make it impossible for the government to work in the international financial markets.
Read more about what unreasonable steps in the renewable energy market may cost Ukraine and why the crisis in the industry has signs of political motivation, in the column for NV of UDP Renewables managing partner Sergiy Yevtushenko.