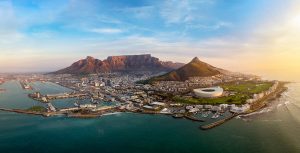 Rainbow Nation to Beat Its Massive Unemployment with SMEs
The Republic of South Africa has pledged to invest $95M in its small and medium enterprises and startups. Therefore, it has launched a fund headed by some of the country's leading businesspeople. "With this fund, small and medium enterprises with growth potential would be identified and put through partnerships with our members who would offer them support and access to new markets," CEO of the Discovery Group and the project's major investor Adrian Gore said. The initiative, he believes, will resolve one of the most pressing issues facing the country: although RSA has the second-largest economy on the continent, nearly 28% of its citizens are on the dole.
According to the World Bank, SMEs play a major role in developing countries as the vehicle of growth for both economic activity and job creation. They contribute up to 60% of total employment in emerging economies and up to 40% of their GDP.
RSA has the oldest business incubator (in operation since 2000) and the most mature startup ecosystem in Africa. Its venture capital industry is quite tiny compared to those of Israel and the U.S. but well-established. More local startups in a variety of tech sub-sectors such as FinTech, TravelTech, and EdTech are using innovative technologies such as the Internet of things, artificial intelligence, machine learning, and blockchain. The "rainbow nation" has proved, yet again, that every cloud has a silver lining: the latest report conducted by Venture Capital for Africa concluded that a strong effort from both the public and the private sectors to reduce high rates of unemployment has greatly helped to make Johannesburg and Cape Town the most vibrant entrepreneurial hubs in the region – thanks to SMEs that overcome changes and turbulence more smoothly than big companies.