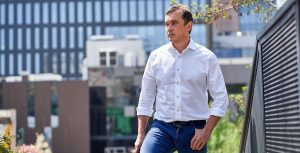 "Production and creative sphere — the key to economic growth in Ukraine," Vasyl Khmelnytsky
Every year in Ukraine there are more and more pioneers who start and develop business, create new jobs, raise the economy of their enterprise, the region and the whole country. According to Vasyl Khmelnytsky, the founder of the UFuture holding company, the main task of entrepreneurs is to unite efforts and move from the raw materials to the production and creative economy.
In his column for NV, he explains what should be used to build the future of the country and what culture should be nurtured by modern leaders.
Ukraine has great natural potential, excellent raw material base and excellent location. However, we must stop exporting raw materials and start producing value-added products.
While Europeans are considering relocating their own production from China to other regions, it is time to open new production facilities and develop industrial parks following the example of the United States, Germany and the Czech Republic.
There are surprisingly many talented professionals in the country — and in order to keep them, it is important not just to create jobs, but to increase the level of education and skills of people.
In order to earn and run a quality business, you need to pay special attention to education — in our company we hold forums, develop ecosystems and innovation parks, where successful practices share their own expertise and practical cases.
In all developed countries, being an entrepreneur is an honour. In our country, we must also support small and medium-sized businesses, increasing the prestige of the profession.
More on why one should not expect the crisis and ideal conditions, act now and how to achieve its potential — see at the link.