Plank Electrotechnic has entered into a strategic partnership with Fegime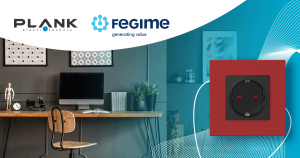 The first Ukrainian plant for the production of wiring products PLANK Electrotechnic, developed by the holding company UFuture, has signed a strategic partnership agreement with FEGIME Ukraine.
The members of the federation of independent wholesale electrical companies are 20 countries, which unite a total of more than 230 manufacturing companies and distributors of electrical and lighting products involved in the development of energy-efficient projects. FEGIME's mission is to create value for group members, suppliers, and customers. As an association of family businesses, the federation has a reputation as the best independent operator in the field of wholesale and distribution of electrical products.
FEGIME Ukraine, in turn, brings together more than 25 local distribution companies and partner companies, including now the national manufacturer of electrical products PLANK Electrotechnis.
"Cooperation with FEGIME adds visibility to the PLANK brand for Ukrainian and European customers, increases the base of direct partners, and expands the presence of products in the international and Ukrainian markets. Today, the potential of the Ukrainian electrical market is over 600 million hryvnias. Currently, PLANK occupies only 5% of the national market, but thanks to the partnership with FEGIME we strive to increase sales and improve our presence several times," said Oleksandr Kryzhanovskiy, Director of PLANK Electrotechnic.
In 2020, the total turnover of all members of the FEGIME Ukraine group amounted to 237 million euros, and the FEGIME group — more than 1 billion euros. There are branches and representatives of the group in every region of our country, and their clients are leading companies in various industries and the public sector, DIY networks, and specialized electrical stores.