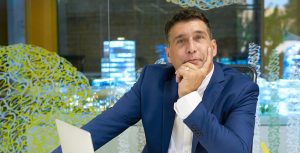 "Our challenge today is to create an ecosystem and culture of innovation," Dominique Piotet, CEO of UNIT.City
In 2020, UNIT.City Innovation Park will focus on ecosystem building. The main goal of its manager, expert and digital transformation leader Dominique Piotet is to launch the Ukrainian startup market globally and build a culture of innovation.
"We will be presenting our development strategy over the next few weeks and will publicly announce it by March. As I mentioned, in 2020 we focus primarily on the ecosystem. There are three main dimensions. First is the development of startups. Second, the involvement of foreign and Ukrainian partners who can share their expertise and philosophy with us. The third pillar is financing. We need to look for money not for ourselves, but for startups. And of course, we will find the money because we have the talents and the potential. We build innovative parks not only in Kyiv, but also in Lviv and Kharkiv. So this is a whole network," Dominique Piotet, CEO of UNIT.City, said.
Dominique Piotet's plans include attracting a large number of big names, international companies, and new partners who can bring to UNIT.City the philosophy and culture of innovation.
"Our main task and at the same time our main challenge is to build an ecosystem. The UNIT.City ecosystem is not yet strong enough and 2020 will be the year of its development. To do this, we need to attract as many new partners as possible, who will be able to share our resident's expertise and philosophy. There are funds to support startups in Ukraine, but we need more. And that's a challenge. In my understanding, an ecosystem cannot be without a culture of innovation. And that's the kind of culture we need to create at UNIT.City. Our vision, our mission, our values ​​are all about creating that culture," Dominique Piotet said.
Read more about innovation park's development strategy, the promises made by Alibaba founder Jack Ma during his visit to UNIT.City, and how to build the best ecosystem of the future, in an interview with Dominique Piotet for The Village: "Who is the new CEO of UNIT.City? Dominique Piotet about a plan for 100 startups and Jack Ma's advice".