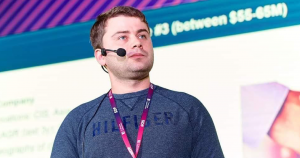 "My way is to work deeper with the product than consultants do," Vitaly Gorovoy, founder of InSoft Partners
The specificity of InSoft Partners is an active investment — constant entry into new businesses (search, purchase, co-creation, sale) and the participation of management in operational management. In the world, such a model is called serial entrepreneurship.
In an interview with First Business Channel, Vitaly Gorovoy, founder of InSoft Partners (UFuture's partner in ITernal, a group that specializes in IT outsourcing), said that the main criterion in selecting projects for him is the value of the partnership, in particular, business growth potential. which can provide team integration.
About IT outsourcing
The value of IT outsourcing lies not only in helping to refine the product but also in gaining such important indicators as money and time. Ukrainian programmers work quickly and efficiently, for less money compared to American employees.
Investment VS company creation
Its clearly impossible to say that it is easier, faster or cheaper to invest in a particular business than to start your own company from scratch. An important point for the purposes set by the entrepreneur at one stage or another to administer his own team, give such an opportunity to freelancers or entrust them with all the processes from creation to coordination.
You may not always agree on a vision, values, or approach to joint business. And the time spent by the founders and management can be much more valuable than the money invested in the company.
Impact of the pandemic
The pandemic has affected all companies in the world without exception. In Ukraine, according to estimates close to the official ones, in 2019 the technological region brought more than $5 billion in turnover. The growth rate of the industry was about 20% annually. In 2020, the turnover was expected to reach $6 billion.
Due to lockdown and uncertainty in the market in the first half of last year, most companies "fell" from 10 to 50%, but in the second half due to a significant increase in demand, players were able to restore the status quo and balance or even added to turnover.
For more information on the potential of the Ukrainian outsourcing market, investment attractiveness and valuation methods of IT companies in Ukraine, see the interview of the entrepreneur of the First Business Channel.