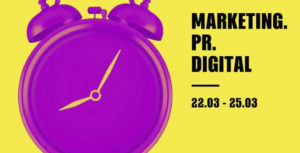 LEAN MARKETING – MARKETING OF THE FUTURE
Nowadays we can't imagine good management without marketing, because good marketing is an integral part of the consistent growth of business.
Lean marketing is a marketing of saving, that is, in a sense, a new level of marketing strategy that leads not just to business or production developing, but also shows ways of doing business, using the available resources as efficiently as possible.
An excellent opportunity to learn about Lean Marketing more – to visit the MARKETING.PR.DIGITAL program, held by the Higher School of Communication in Kiev on March 22-25.
Lean Institute Ukraine President Sergii Komberiyanov will open the first day of the program with a lecture "Lean Marketing as a response to time challenges".
"Lean Marketing is an extremely interesting Lean industry, which appeared at the junction of the so-called "old lean" from Toyota and the "new lean" of Eric Reza, which has huge potential for local companies. And I predict its popularity in Ukraine in just a year" Sergii Komberiynov is convinced
The MARKETING.PR.DIGITAL program is an opportunity to learn the experience of successful companies to find new solutions. Learn about non-standard approaches to creating a product and relevant business tools. Meet new partners, contractors, clients.
Find full schedule and registration form for 4 days program via link http://marketing.vshk.org/