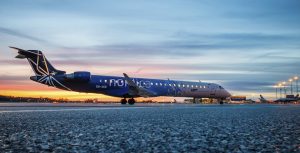 Kyiv Sikorsky Airport to celebrate arrival of first plane with Nordica's dragonfly with water salute
At 00:25 Kyiv time on April 27, a plane of Estonia's national airline Nordica with its blue dragonfly emblem is arriving at Kyiv Sikorsky Airport. The first Tallinn-Kyiv flight at the airport will be welcomed with a gala water salute — a touching airport tradition to honor new airline service. The airport invited spotters to shoot a full-fledged photoset with the crew and the plane early in the morning when the plane will take off for its first return flight from Kyiv to Tallinn.
"Images at the airport at dawn are usually the most beautiful. The best photo of the Dragonfly Nordica contest, which will be voted on by the public on the pages of the airport and the airline on Facebook, will receive a prize from Nordica — round-trip tickets to Tallinn for two persons and a plane model! Two more aviation photographers will get plane models for the best photos if the second place is taken, while the prize for the third place will be souvenirs from the airline and the airport. Photos taken outside the airport's fence will be also accepted for the Dragonfly Nordica photo contest, as spotters know the best points for shooting," Galina Bogdanenko, the head of the press service of Kyiv Sikorsky Airport, has said.
Photos can be sent to [email protected] until May 15.
Well, one may ask why ordinary passengers need to know this. Just think about traveling to Tallinn. One cannot deny the fact that Tallinn is one of the most beautiful cities in the Baltic region and northern Europe. This is a fairy tale city, a dream city — the one you must definitely visit!