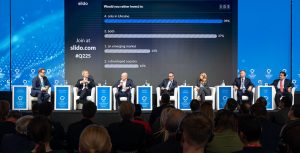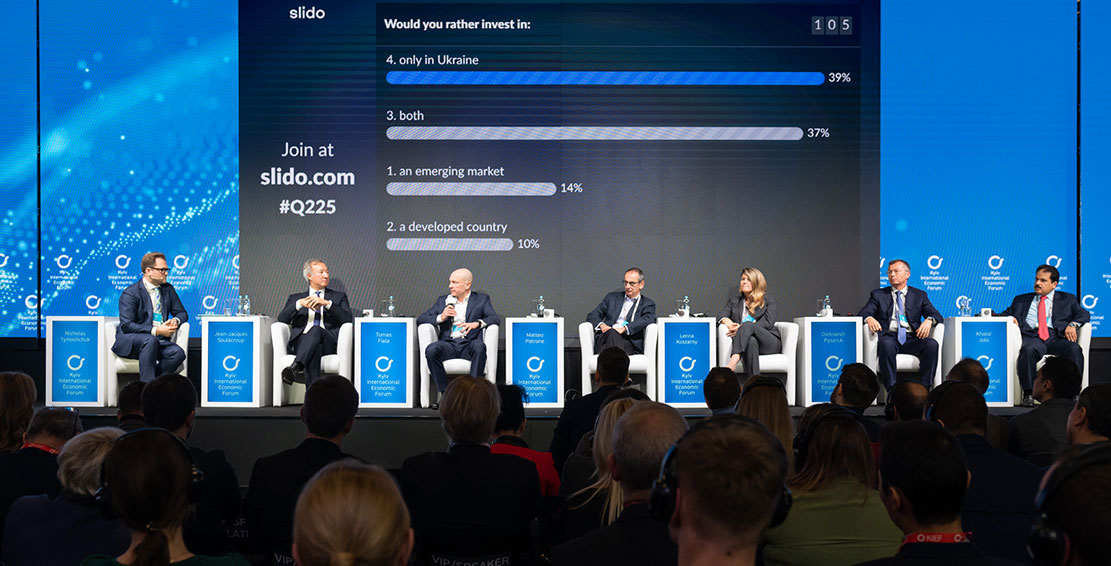 KIEF-2019: Opportunities and risks of investing in emerging markets
The most attractive industries for investment, the impact of trade wars on the business climate, and decision-making criteria for potential investors. These and other issues were discussed by the participants of the "Investment Attractiveness of the Emerging Markets: Risks and Opportunities" thematic panel at Kyiv International Economic Forum-2019.
We continue the series of reports from the year's main business event a strategic partner of which is UFuture holding company.
Speakers of the thematic debate were:
Tomas Fiala, CEO and founder of Dragon Capital;
Matteo Patrone, EBRD Managing Director, Eastern Europe and the Caucasus;
Lenna Koszarny, founding partner and CEO of Horizon Capital;
Jean-Jacques Soulacroup, Deputy Head of Corporate Finance Division of the EIB;
Khalid Jolo, CEO of Nebras Power;
Oleksandr Pysaruk, Chairman of the Management Board of Raiffeisen Bank Aval.
Nicholas Tymoshchuk, CEO of UFuture, moderated the panel.
In recent years, emerging markets' stock has grown amid China's slowdown and global money depreciation. At the same time, many G20 countries borrow money at zero or negative interest rates and international funds create projects. The panel's speakers answered the question if emerging markets were becoming more attractive. Matteo Patrone, EBRD's Regional Managing Director, was among the speakers.
"I expect that EBRD's crediting to Ukraine will reach €1.1-1.2 billion by the end of December. But Ukraine needs structural reforms, supremacy of the law, demonopolization, and deregulation — all related to the IMF agreement. We are a development bank, but also a commercial bank. We are doubling our investment in Ukraine because in this way, we are doing everything to please the government. For the EBRD, Ukraine is now an extremely important market. The second after Turkey, by the end of 2019 I hope, it will be the first. We have passed the billionth threshold in investing in Ukraine. We invest in renewable energy projects, infrastructure (energy and transport) projects, municipal projects here. Among the international investors, we are now the largest in Ukraine," Patrone said.
Tomas Fiala, CEO of Dragon Capital, spoke about the slowdown in China's economy that makes investors pay more attention to emerging markets.
"I hear a lot from investors about finding new opportunities. They are looking for opportunities around the world, looking for niches for growing. Now Ukraine has a unique window of opportunities: political, political will, and this chance should be used now, at an early stage, as over time, this desire may diminish and promoting such unpopular reforms, such as the land reform, will be more difficult," Fiala said.
According to him, investments in Ukraine pay off and his business shows a good performance in this regard.
"We founded the company 19 years ago and during this period, we've already achieved results. Our average return on investment is 35%, this is not bad. Despite all the crises, Ukraine is an interesting economy. In 2008, we had a 100% return on investment. Except for Ukraine, we invest in the Czech Republic, Central Europe, and Slovakia," he added.
Jean-Jacques Soulacroup, Deputy Head of Corporate Finance Division of the EIB spoke about what investors were paying attention to and why they were interested in the emerging markets.
"Emerging markets remain attractive in times of crisis due to high returns on investment. Of course, they remain a great challenge regardless of the crisis. We need to find and work with industry champions. This is a risk issue. Last year, we borrowed €64 billion, a third of that money went to developing countries. This year, we've invested €8 billion, two-thirds of them went to Ukraine. Here, we'll invest in the private sector and infrastructure, and lend to banks, small and medium-sized businesses. Now, we are changing the approach, refocusing on digitization which is our priority on the agenda. We believe that innovative industries must be in focus," Soulacroup said.