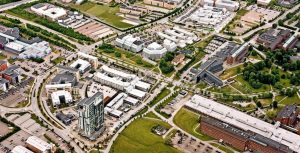 How Sweden has become a technological country
Sweden was one of the first countries in Europe to feel the effects of a strong economy in East Asia. At the same time, the deindustrialization of the Old World began. In the late 1970s, the largest industrial plants, shipyards in Malmö and Skåne, began to lose market share under pressure from young and aggressive competitors from South Korea. The Swedish province has faced mass unemployment. It was necessary to find extraordinary solutions.
In 1983, a team of young scientists from Lund University, one of Sweden's two largest universities, led by chemistry professor Sven-Thor Holm, suggested that university management, Lund municipality and Governor Skåne build an Ideon technology park in the city to help create new jobs. in knowledge-intensive industries. At the time it seemed fantastic, because in the world at that time there were only 8 technology parks and none in Europe.
Today, Ideon's results amaze even sceptics: in the 37 years since its opening, more than 10,000 jobs have been created in the knowledge-intensive industry and 400 companies with more than 10,000 specialists have been hired. Only 15% of them specialize in consulting and service. The rest are companies implementing projects in the field of IT, pharmaceuticals, bio and "green" technologies.
Three years after its creation, more than 80% of knowledge-intensive startups survive here, while on average in Western Europe, 60% is considered a good indicator. The founders of the park believe that one new job in IT creates three jobs in the service industries.
However, the constant support and interaction of the state, the university and large private business were crucial for Ideon's success. At Lund University, communication between the natural sciences faculties and large corporations has always been strong. However, the university management tried to find opportunities for the development of relations with small businesses, as well as for the commercialization of knowledge, even in those areas of research where it would seem impossible in principle.
No less important role in the fate of Ideon was played by large private businesses. The technology park might not have existed if in 1983 the project team and the regional government had not persuaded IKEA founder Ingvar Kamprad to join Ideon's board of directors and invest 1 billion kroons in it. Today, the Kamprad family through the IKANO Group owns one of the two development companies, which, in fact, owns the real estate of the technology park and its management company.
Technopark is literally an intermediate link between the university and large corporations. To the west and south, its buildings are surrounded by university buildings, and to the east and north by the R&D centres of AstraZeneca, Garbor, Ericsson, Tetra Pak and dozens of other companies.