Founder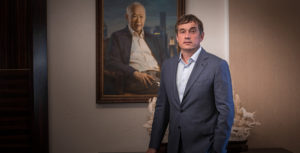 VASYL KHMELNYTSKY
Vasyl Khmelnytsky is a prominent and visionary Ukrainian entrepreneur. Over his exciting career, he has come a long way from managing a Kyiv-based portfolio investment company to have built one of the biggest and, probably, the most forward-looking business groups in Ukraine. Today his UFuture Investment Group consolidates dozens of successful enterprises and many more greenfield projects, which span both well-established and innovative industries and amount to $750m in total assets.
The group made its fortune in traditional sectors, such as real estate and infrastructure, but today it is irreversibly transitioning into the industries of the future, such as pharmaceuticals, renewable energy, high-tech, and innovation. Beyond business, Vasyl Khmelnytsky supports many social projects in fields of education and economics aimed at boosting the global competitiveness of Ukraine.
Between 2004 and 2008 the Ukrainian economy was growing in double digits, attracting FDI in billions and opening the biggest country in geographical Europe to the world. It was a time of a tremendous opportunity for those who stood ready, and Vasyl Khmelnytsky was among those riding the wave bigtime. Within that relatively short period, his investment company made a number of extraordinarily successful exits, most of which resulted in double-digit profits. In 2006 the group successfully sold its key asset – the majority stake in Zaporizhstal steel mill – that brought $400m to the table and changed their business forever.
Revealing his rationale behind the decision to sell Zaporizhstal, Mr. Kmelnytsky recalls: "When I saw that China had taken on a path of becoming a steel producer, I realized that soon there would be hardly any room left for anyone else in that business."
Then the entrepreneur's hunch directed him to the next big thing: real estate. In result, as of 2018 his company UDP has built more than three million square meters and today is one of the biggest real estate developers and infrastructure enterprises in the country. Some of their most prominent projects are construction of Ocean Plaza shopping mall and such residential complexes as Novopecherski Lypki, Boulevard of Fountains, RiverStone, and Parkove Misto.
Except UDP, the group owns and operates Kyiv International Airport, Bila Tserkva Industrial Park, and innovation parks UNIT.City and LvivTech.City. With its high-tech parks, Mr. Khmelnytsky aims to boost development of innovative, technology-based and other advanced industries in Ukraine to make the best use of the country's exceptional and abundant IT and scientific talent.
"I want to build a match for the American Silicon Valley in Ukraine, and I'm already doing it. It will be a place that brings together product and research companies as well as startups that work in IT and high-tech industries." Vasyl Khmelnytsky
Additionally, he develops the businesses of the future, such as renewable energy generator UDP Renewables and pharmaceutical producer Biopharma.
Vasyl Khmelnytsky is convinced that human talent is the most valuable resource of the future. Therefore, by investing in education, entrepreneurship and innovative thinking he helps people foster their potential and fuel passion for changing the world for the better. Some of the most prominent social projects that Mr. Khmelnytsky supports are annual Kyiv International Economic Forum, cutting-edge IT coding school UNIT Factory, the projects of Osvitoria NGO: Novopecherska School and online platform for orphans and children from disadvantaged families iLearn, School for Small and Medium Entrepreneurship (SME); Lean Institute Ukraine (LIU); also K.Fund Books publishing house and online media outlet K.Fund Media.
Being also the Chair of the Supervisory Board at National Technical University 'Kharkiv Polytechnic Institute', Mr. Kmelnytsky says that "Every year, I and my top managers visit the world's leading universities and the most innovative companies to learn and then apply their unique experience and groundbreaking approaches in Ukraine". He is firm that only by changing how people in Ukraine think, which should start with education, the country can boost progress, achieve prosperity and assume its rightful place in the modern world.